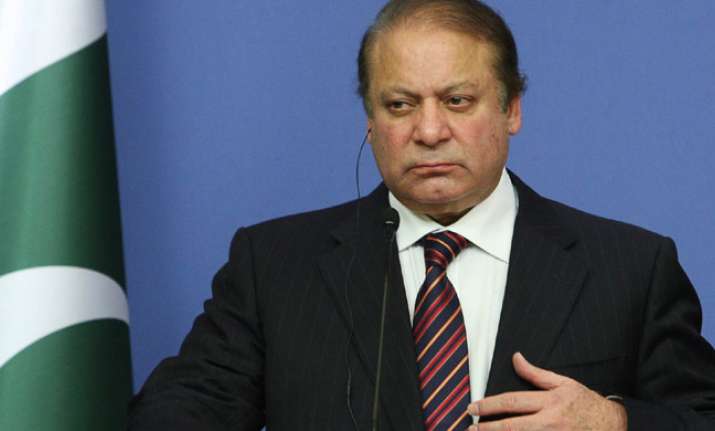 Pakistani Prime Minister Nawaz Sharif's frantic bid to internationalise the Kashmir issue ahead of annual UN General Assembly has found no traction as the international community – particularly the US  and UK – does not appear too keen to endorse Islamabad's views.
On Monday, the Pakistani Foreign Office said that Sharif had sent letters to the United States, Russia, China, Britain and France asking them to intervene "to halt more than two months of violence in Kashmir" which he cited as a threat to international peace and security.
However, the terror attack at Kashmir's Uri town that left 18 Indian soldiers dead and suspected to have been carried out by Pak-based Jaish-e Mohammad, has put Islamabad in a spot.
Sharif who arrived in New York yesterday, met US Secretary of State John Kerry and British Prime Minister Theresa May and is believed to have raised the issue.
State-owned Radio Pakistan which has historically enjoyed first access to speeches and remarks from the country's leaders, specially the Prime Minister and the President, said this about the meeting with Kerry:
"'Highlighting Kashmir issue, he (Sharif) said so far one hundred and seven people have been martyred and hundreds injured during the current spree of violence in Occupied Kashmir.
"He said human rights violations are being carried out as state terrorism in the held valley.
"John Kerry appreciated Pakistan's endeavours in fight against terrorism and extremism.
"He said peace and stability in the region is in the interest of both Pakistan and Afghanistan."
Notably, there was no mention, to belabour the obvious, to Kashmir or India in Kerry's remarks as reported by Pakistani press. 
Sharif's meeting with British Prime Minister May didn't go any better either, according to same sources — the Pakistani media, Radio Pakistan ignored it completely.
And, how did May respond?
"'The British Prime Minister acknowledged Pakistan's efforts in promoting economic stability and tackling terrorism. She also appreciated Pakistan's efforts in bringing about peace in Afghanistan," said the News.
And, she talked about the role of Pakistanis in Britain, saying they are "playing an important role in the progress of Britain."