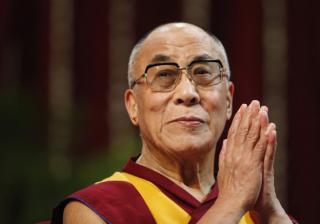 Brushing aside China's opposition to the Dalai Lama's upcoming visit to Arunachal Pradesh, India on Thursday made it clear that it had no control over his travel plans within the country.
India also said that political motives should not be read into the Dalai Lama's Arunachal visit.
"He is a revered religious figure who is treated as such by the government and the people of India. The government has no say in his travels within India and no political meaning should be attached to them as such," Ministry of External Affairs (MEA) spokesperson Gopal Baglay said.
China's foreign ministry spokesman Geng Shuang had warned India last week that giving permission for  the Dalali Lama's Arunchal visit would cause "serious damage" to the bilateral ties and peace in the "disputed" border region.
"China is gravely concerned over information that India has granted permission to the Dalai to visit Arunachal Pradesh," Geng Shuang had said.
Responding to Chinese plan of expanding BRICS under a new name "BRICS plus", Gopal Baglay said that India is awaiting details of the suggestion.
Addressing his annual press conference on Wednesday, China's Foreign Minister Wang Yi  had said that the plan to expand BRICS is aimed at turning the group into the most impactful platform for South-South cooperation.
"China would explore modalities for BRICS-plus, to hold outreach dialogues with other major developing countries," Wang said.
Baglay reminded that every BRICS chair during its arranged outreach alongside BRICS events.  and brought a flavour of its geography to the participants.
He also added that India  arranged BIMSTEC meet during  BRICS summit held in Goa last year  as part of its outreach event.