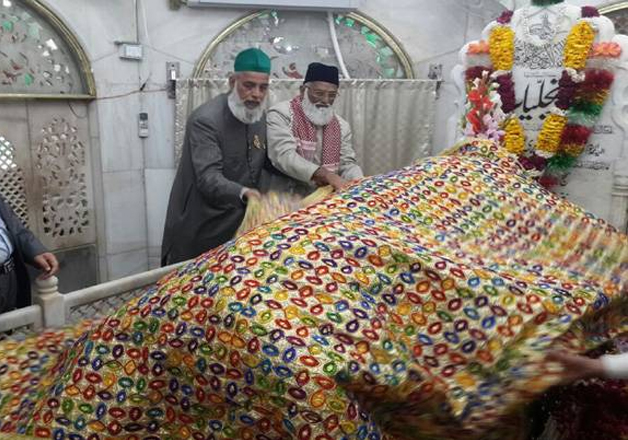 After External Affairs Minister Sushma Swaraj's personal intervention into the issue of the two missing Indian Sufi priests in Pakistan seeking an update from Pakistan, Islamabad today said that authorities continue to remain clueless about the whereabouts of the duo.
Foreign Office spokesperson Nafees Zakaria, however, said that necessary directions have been given to the agencies to locate the Indian nationals.
"No clue to the missing Indian priests has been found so far. However, we are pro-actively pursuing this case," Zakaria said.
"We have asked all departments concerned to look into the matter," he added.
Two Indian clerics, including the 80-year-old head priest of New Delhi's Hazrat Nizamuddin Dargah, who were on a religious tour to Pakistan, had gone missing in Pakistan, prompting New Delhi to lodge a serious complaint with Islamabad and also asking the government to repatriate them immediately.
Swaraj had this morning said that Indian High Commission has taken up the matter with Pakistan very seriously. 
"We have taken up this matter with Government of Pakistan and requested them for an update on both the Indian nationals in Pakistan. Both are missing after they landed in Karachi airport," Swaraj tweeted. 
The duo have been identified as Syed Asif Nizami and his nephew Nazim Nizami. They went missing after they landed at Karachi airport. Syed Asif Nizami is the head priest of Hazrat Nizamuddin Aulia Dargah. 
The two had gone to visit the famous Daata Darbar shrine in Lahore and were to catch a flight to Karachi on Wednesday. The clerics had gone to Karachi to meet their relatives on March 8 before travelling to Lahore to visit the shrine. 
A Federal Investigation Agency official at the Lahore airport said that they have no idea about the missing of the two clerics from the airport premises. 

"It is not clear whether they have gone with someone on their own or there is some other matter," he said. 
A senior Punjab police officer also expressed his department's ignorance about this matter saying: "Neither we have received any application about the missing Indian priests nor the federal government has asked us to look into this matter."
Exchanges between clerics of the Nizamuddin Dargah and the Daata Darbar are part of a regular tradition. 
With PTI Inputs