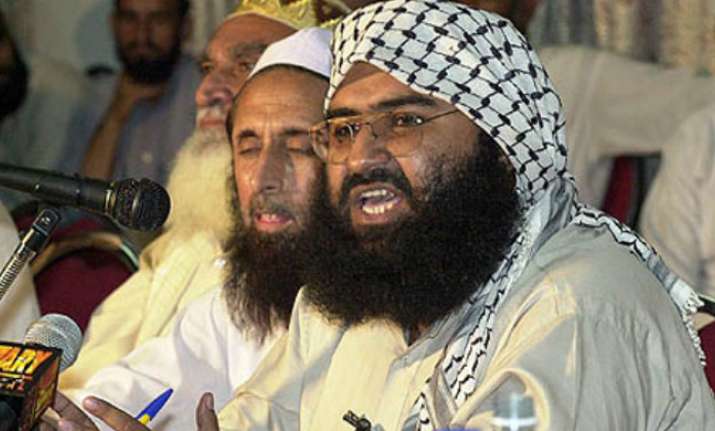 Refusing to budge from its stand on Masood Azhar despite India's move to charge sheet the terrorist in the Pathankot attack, China today said that any move by New Delhi to bring about a UN ban on the JeM chief must be in line with rules and procedures laid down by the Security Council.
"On the question of listing in the 1267 Committee, I have expressed the Chinese position many times," Foreign Ministry spokesperson Hua Chunying told PTI in response to a question on NIA listing Azhar, the head of Pakistan-based terror group Jaish-e-Mohammad, as terrorist in the charge sheet on the attack on an air force base in Pathankot in January this year.
"Listing in the 1267 Committee must be in line with the relevant resolutions of the UNSC and the rules of procedure of the Committee," Hua said in a written reply here.
National Investigation Agency (NIA), India's premier agency entrusted with probes in terror-related incidents, on Monday filed a charge sheet against Azhar, his brother Rauf Asghar and two others for hatching the conspiracy of the attack that killed seven personnel and injured 37 others. 
The charge sheet alleged that immediately after the Pathankot incident, Rauf had hosted a video message claiming responsibility for the terror strike and glorified the role of Azhar, who was released in exchange for passengers of hijacked Indian Airlines plane IC-814 in 1999.  
The charge sheet is likely to be used by India at various international fora to highlight the role of Masood Azhar in Pathankot terror strike carried out on January 2 this year.  
China's reply came as Beijing's second technical hold in the UN blocking India's move to list Azhar as a terrorist under the 1267 committee rules of the UNSC is set to expire towards the end of this month. 
On March 31, China, a veto-wielding permanent member of the UN Security Council, had blocked the move to impose a ban on Azhar under the Sanctions Committee of the Council.
China was the only member in the 15-nation UN body to put a hold on India's application with all other 14 members of the Council supporting New Delhi's bid to place Azhar on the 1267 sanctions list that would subject him to an assets freeze and travel ban. 
Officials here say that India may have to apply again to the 1267 committee with the charge sheet details to press for its case as its present application will lapse following Beijing's two technical holds. 
The two countries have been holding talks on China's blocking Azhar's case as well as India's application to join the Nuclear Suppliers Group (NSG). 
The talks appear to have not made much headway as China on December 12 said there is no change in both the cases. 
"As for India's application for Nuclear Suppliers Group and listing issue pursuant to resolution of 1267 (to list Azhar as terrorist) China's position remains unchanged," another Foreign Ministry spokesman Geng Shuang had said. 
His assertion that China's stand remained unchanged in both NSG and Azhar's cases was made while answering a question on Foreign Secretary S Jaishankar's remarks last week at India-China think tank forum in New Delhi thatChina should not give a political colour to New Delhi's efforts to access civilian nuclear technology, in reference to Beijing's opposition to its NSG bid. 
Jaishankar had also expressed dismay over the two countries not being able to come together on the issue at critical international forums, a reference to China blocking the ban in the UN on Azhar.  
The Pathankot terror strike had seen a joint investigation team from Pakistan also arriving in India for carrying out a probe. 
However, the Pakistani team, upon their return, claimed that India neither shared much of evidence nor allowed it to interrogate the security personnel involved in dealing with the attack.
(With PTI inputs)