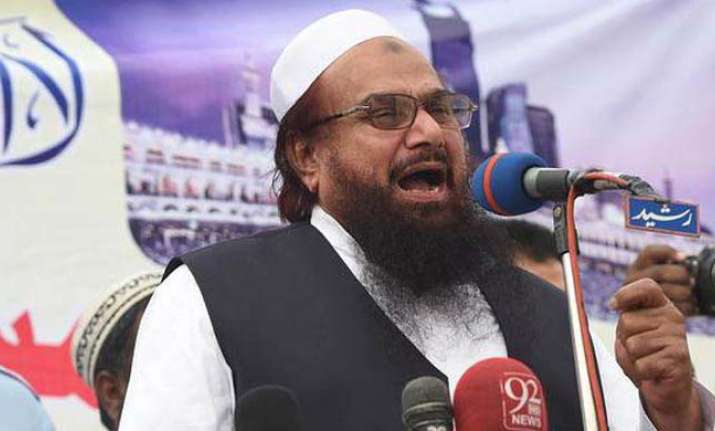 Referring to 26/11 Mumbai terror attacks mastermind and Jamat-ud-Dawah (JuD) chief Hafiz Saeed as 'sahib' (sir), Pakistan's prime minister Shahid Khaqan Abbasi on Tuesday said that there is no case against the former in the country, so no action can be taken against him. 
In an interview to Pakistan's Geo TV, Abbasi said that action can be taken against an individual only when there is a case against him. 
Earlier in November, the Abbasi had claimed that India has provided "no evidence" against Saeed on the basis of which he can be prosecuted.
"The court, a three-judge bench, has released him (Saeed) saying there are no charges against him, the country has a law you know," said Abbasi.
Reacting on Abbasi's comment, former Pakistan diplomat Hussain Haqqani said that the prime minister needs to come up forward with convincing proof that there is no substantial proof to try and convict Hafiz Saeed. 
Participating in a media interaction on the sidelines of the ongoing Raisina Dialogue here, Ambassador Haqqani said, "I think that the international community has offered evidence, and, if the Pakistan Prime Minister feels there is no substantial evidence against Hafiz Saeed, then he should talk to the international community."
"After all, the U.S. has spoken about this evidence and I am all for evidence being offered, as we live in a civilized world, and in that, evidence is required and important. But, it is not reasonable to say that what the rest of the world considers substantial, is not considered substantial by the Pakistan Prime Minister," he added. 
Abbasi also denied any possibility of war between India and Pakistan despite continued rhetoric by foreign minister Khawaja Asif, asserting that "door for talks with India is open". 
"I don't think there is a danger of war, at least from our side, it isn't there. Pakistan has never taken unilateral action, we have always demonstrated responsibility," Abbasi said.
"It is necessary for both countries to stay away from escalation," he added.
Earlier in January, amid the growing pressure from Trump administration to act on terror organisations, Pakistan had blacklisted 72 organisations, including JuD and Lashkar-e-Taiba (LeT).