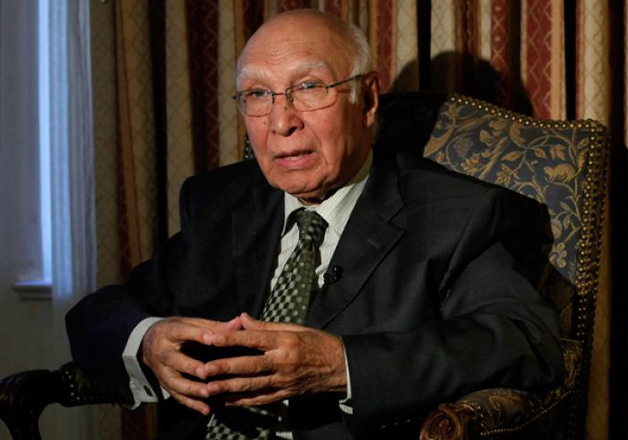 Pakistan and India will not hold any bilateral meeting on the sidelines of the Heart of Asia Conference being held in Amritsar on December 3-4.
Pakistani media reported that Premier Nawaz Sharif's Adviser on Foreign Affairs Sartaj Aziz will leave for India on Sunday with no bilateral meeting on the card. 
"For now, we don't see any willingness on their part... the ball is in India's court, for they know we are willing but we don't know whether they are willing," news website Dawn quoted a Foreign Office official as saying.
Aziz is leading a Pakistani delegation to the two-day meeting that will focus on cooperation between Afghanistan and its neighbours for improving connectivity and tackling security threats in the region.
The reaction from Pakistan comes a day after India clarified that it has not officially received a request for any bilateral meeting from Islamabad.
"Pakistan has not requested for any bilateral meeting so far," Gopal Baglay, who heads the Indian MEA division dealing with Pakistan, said at a briefing in New Delhi.
Pakistan and India had at the last Heart of Asia ministerial meeting in Islamabad agreed to start "Comprehensive Bilateral Dialogue" that was to cover all outstanding issues. 
The resumption of the dialogue could, however, not take place due to the Pathankot attack in January earlier this year.
Bilateral relations further deteriorated in July following the commencement of unrest in Jammu and Kashmir and India placed the blame for the September 18 Uri military camp attack and continuing infiltration attempts on Pakistan. 
Things turned worse with the spike in ceasefire violations at the border that have left dozens of people dead in barely two months.
The Pakistan government decided to attend the Heart of Asia conference despite a deep freeze in bilateral ties, even though India had scuttled the SAARC summit that Islamabad was to host in November this year.