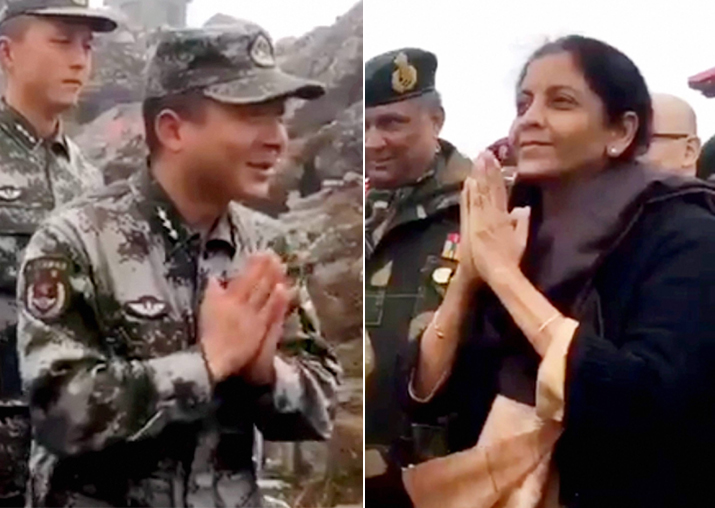 Indian Defence Minister Nirmala Sitharaman's brief conversation with Chinese soldiers during her maiden visit to the Nathu La border post in Sikkim and greeting the People's Liberation Army (PLA) personnel with a 'namaste' is being seen in China as a friendly gesture and is being welcomed by all.
A Chinese daily today said that Beijing welcomes Sitharaman's greeting and hopes this friendly gesture is also welcomed by Indians. 
"Sitharaman's charm offensive might help break the ice between Chinese and Indian public opinion," the state-run Global Times said in an editorial. 
"Sitharaman held friendly exchanges with Chinese soldiers... An Indian soldier standing beside (her) is seen holding a gift in the video released by the Indian Defence Ministry, probably the most warm-hearted scene at the Sino-Indian border area since the Doklam standoff," it added. 
Indian and Chinese soldiers were involved in a dragging face-off at Doklam, claimed by both China and Bhutan, from June to August, seriously straining relations between Beijing and New Delhi.
"Sitharaman's greeting to the Chinese soldiers conveys her hope for peace on the Sino-Indian border and unwillingness to see a new standoff. This is commonly regarded as the attitude of the Narendra Modi government," the daily said. 
The daily said that friendly cooperation with China was the best option for India, "strategic exhaustion the worst. Both countries should control the risks".