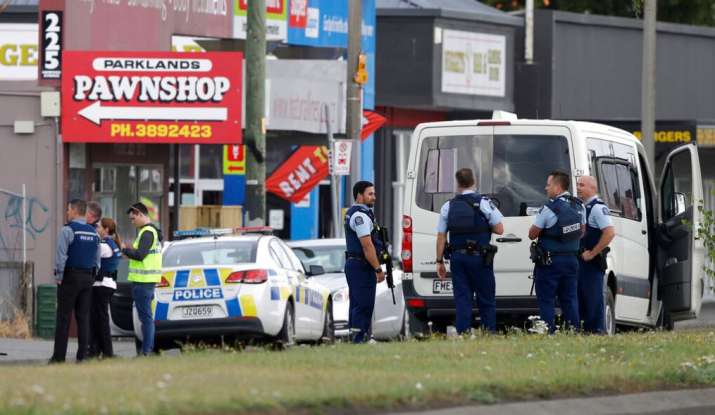 Many people were killed in a mass shooting at a mosque in the New Zealand city of Christchurch on Friday, a witness said. Police have not yet described the scale of the shooting but urged people in central Christchurch to stay indoors. And New Zealand media reported a shooting at a second mosque in a Christchurch suburb.
Latest Updates:
"49 people have been killed in shooting at two mosques in Christchurch," ANI quoted New Zealand Police Commissioner Mike Bush as saying.

Reuters: New Zealand Prime Minister Jacinda Ardern says 40 people have lost their lives; more than 20 people seriously injured in mosque shooting https://t.co/rc5BdUpBuU

— ANI (@ANI) March 15, 2019

Jacinda Ardern,NZ Prime Minister on shooting at a Mosque in Christchurch: This is one of New Zealand's darkest days. It was an unprecedented act of violence. Police has apprehended a person, but I don't have further details of him yet. pic.twitter.com/xzTHBjk4Xq

— ANI (@ANI) March 15, 2019

BREAKING: New Zealand police say multiple fatalities at two mosques in city of Christchurch, 1 person taken into custody.

— The Associated Press (@AP) March 15, 2019

BREAKING: New Zealand police say 3 men and 1 woman in custody over shootings at 2 mosques in Christchurch.

— The Associated Press (@AP) March 15, 2019

Reuters: New Zealand police say all mosques nationally have been asked to shut their doors pic.twitter.com/S8qWnqsweK

— ANI (@ANI) March 15, 2019
Witness Len Peneha said he saw a man dressed in black enter the Masjid Al Noor mosque in central Christchurch at about 1:45 p.m. and then heard dozens of shots, followed by people running from the mosque in terror.
Peneha, who lives next door to the mosque, said the gunman ran out of the mosque, dropped what appeared to be a semi-automatic weapon in Peneha's driveway, and fled.
Peneha said he then went into the mosque to try and help.
"I saw dead people everywhere. There were three in the hallway, at the door leading into the mosque, and people inside the mosque," he said. "It's unbelievable nutty. I don't understand how anyone could do this to these people, to anyone. It's ridiculous."
He said he helped about five people recover in his home. He said one was slightly injured.
"I've lived next door to this mosque for about five years and the people are great, they're very friendly," he said. "I just don't understand it."
He said the gunman was white and was wearing a helmet with some kind of device on top, giving him a military-type appearance.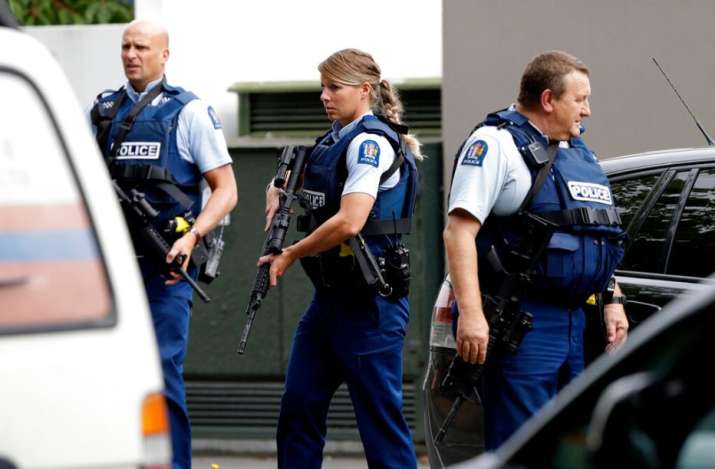 The New Zealand Herald reported there was a second shooting at the Linwood Masjid Mosque.
Mark Nichols told the Herald he heard about five gunshots and that a Friday prayer goer returned fire with a rifle or shotgun. Nichols said he saw two injured people being carried out on stretchers past his automotive shop and that both people appeared to be alive.
New Zealand historically has had only a handful of mass shootings events.
Bangladesh cricket team flees mosque shooting
Members of the Bangladesh cricket team have described on social media their narrow escape from a mass shooting at a Christchurch mosque on Friday.
Players and members of the team's coaching staff were reportedly on their bus, approaching the Masjid Al Noor mosque in Hagley Park when the shooting broke out.
Opening batsman Tamim Iqbal tweeted "entire team got saved from active shooters. Frightening experience and please keep us in your prayers."
Performance analyst Shrinivas Chandrasekeran, also on Twitter, said "Just escaped active shooters. Heartbeats pumping badly and panic everywhere."
Mario Villavarayen, a strength and conditioning coach with the team, told New Zealand media the players did not see the shooter but heard shots. He said they were shaken but unhurt.
"I spoke to one of them shortly after," Vllavarayen said. They didn't see anything but heard gunshots. They were at the ground and just started running.
"The coaching staff were all at the hotel. The players just started running when they heard the shots."
The team is reported to have left the bus and fled on foot to nearly Hagley Oval where it is due to play New Zealand in a test match starting on Saturday.
Reports said the team is under lockdown in its dressing room at the stadium from which manager Khaled Mashud has remained in contact with officials from New Zealand Cricket and the Bangladesh Cricket Board.
(With inputs from agencies)