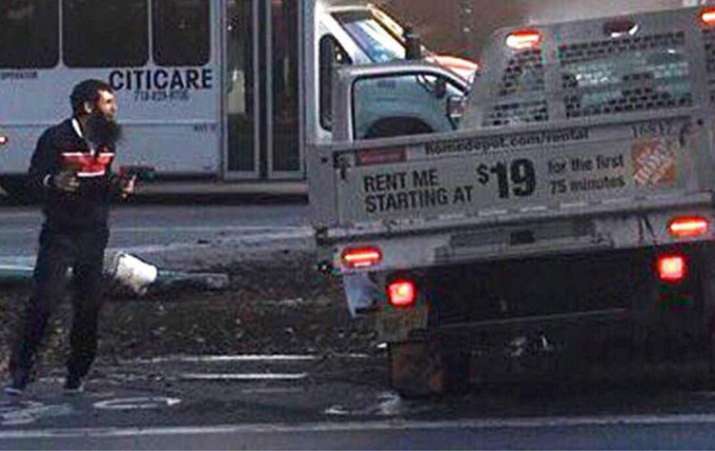 Authorities in the US have identified the man behind the attack on pedestrians and cyclists along a busy bike path in New York's Manhattan in which 8 people have been killed. The attacker was identified as 29-year-old Sayfullo Saipov from Uzbekistan who came to the US legally in 2010. 
At least eight people were killed and 11 others were injured as Saipov drove a rented pickup truck along a busy bike path near the World Trade Center memorial in New York. He barrelled along the bike path in the truck for over a kilometer, before slamming into a small yellow school bus. 
AP reported that the driver was shot in the abdomen by police after jumping out of the truck with what turned out to be a fake gun in each hand. The man underwent surgery and was in critical condition but was expected to survive.
He shouted "Allahu Akbar," Arabic for "God is great," as he came out of the truck, authorities said, citing witnesses. 
Here is what we know about the New York cycle path attacker so far: 
1. The suspect has been identified as Sayfullo Saipov.
2. Saipov is 29 years old. 
3. The suspect is from Uzbekistan and came to the US legally in 2010. 
4. Saipov has a Florida driver's license but may have been staying in New Jersey, police said.
5. Saipov rented Home Depot truck at about 2 p.m. (local time) in New Jersey, entering the bike path about an hour later.
6. A paintball gun and a pellet gun were found at the scene.
7. He was shot by police officers in the abdomen. 
8. The man was shot by officers and was hospitalised. He is expected to survive.
9. Two law enforcement officials said a hand-written note was recovered inside the truck which was in a foreign language, possibly Arabic.
10. Local officials have made no mention publicly of the attacker's connection with the Islamic State group.