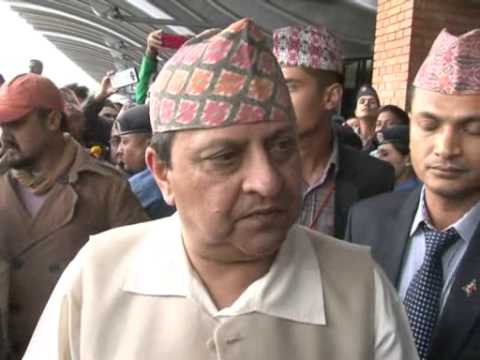 In his first public speech after Nepal abolished monarchy and became a republic in 2008, the country's deposed king Gyanendra Shah today warned that the politics of negativity which was thriving in the Himalayan nation will ultimately lead to a revolt.
"Negating of politics would fuel discontent and it would instigate a feeling of rebellion in the oppressed lot," Gyanendra Shah said.
He made these remarks while addressing the Birat Hindu Sammelan organised by the World Hindu Federation in Kathmandu's Pashupati area.

 

Dozens of Hindu leaders from across the globe, including from India, are taking part in the three-day jamboree. Indian leader Yogi Adityanath of the Bharatiya Janata Party (BJP) is also taking part in the meet.
The former king left his Narayanhity royal palace in 2008 after Nepal was declared republic. Since then, he is living in the Nagarjuna Palace on the northern outskirts of Kathmandu Valley.
In his speech, he vented anger against Nepali politicians and on removal of the Hindu identity from the country. Prior to being declared a republic, Nepal was the world's only Hindu kingdom.
He said foreign intervention was increasing in Nepal and the current political situation had generated despair among the people. "The recent hopelessness has made everybody ponder over the reason behind the current state of affairs in the country."
Observing that Nepal has always been the source of inspiration for ancient traditions of Hinduism and Buddhism, the former Hindu monarch said dark clouds were hovering over the ancient traditions and culture.
He stressed upon the need for uniting and reviving the old traditions. 
Asserting that religion and culture were the life force of a country, he said it was necessary to conserve them in order to save the nation's existence.
The organisers said the meet will demand that Nepal be again declared a Hindu state.
(With PTI inputs)