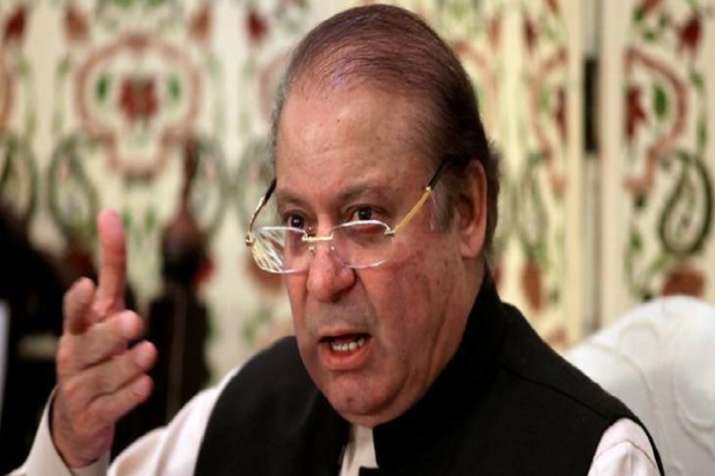 Pakistan's caretaker government on Sunday decided to shift jailed former prime minister to Pakistan Institute of Medical Sciences (PIMS) in Islamabad after irregular ECG and blood reports.
The decision was taken by the Punjab government which has administrative control of the Adiala jail after a team of doctors recommended that Sharif needed proper medication and care.
"Sharif will be shifted to Pakistan Institute of Medical Sciences in Islamabad where preparations have been made to keep the high-profile prisoner," Punjab Home Minister Shaukat Javed said.
Earlier, a team of doctors headed by Dr Ejaz Qadeer and comprising cardiologist Dr Naeem Malik, Medical Specialist Dr Shaji Siddiqui, neurologist Dr Sohail Tanvir and Dr Mashood carried out medical checkup of Sharif after he complained of pain in chest.
Apparently, his ECG was not satisfactory, which prompted the doctors to advise shifting to the hospital.
Following this, the jail Superintendent contacted the caretaker government, which decided to shift Sharif to PIMS.
Sharif had open heart surgery in 2016 and has been also suffering from hypertension and diabetes.
Last week, PML-N president Shehbaz Sharif wrote a letter to caretaker Punjab government seeking better facilities for them at Adiala Jail.
Shehbaz had asked the authorities to ensure continuous provision of medicines and medical examination to Nawaz Sharif from his personal doctor.
On July 24, a medical board formed to ascertain Sharif's health said the three-time Prime Minister was in need of constant medical care and attention.
A five-member medical board formed by PIMS had conducted a medical check-up of Nawaz Shairf on Monday, where the Pakistan Muslim League-Nawaz chief is serving his sentence for corruption.
Nawaz Sharif, who flew from London to Lahore alongside his daughter Maryam Nawaz on July 13, was arrested on arrival at the Allama Iqbal International Airport, flown to Islamabad via a helicopter, and shifted to jail, where he is serving the sentence awarded to him in the Avenfield properties case along with his daughter and son-in-law Mohammad Safdar.