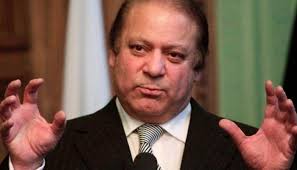 Islamabad: In an incident that brings forth another interesting facet of some of Pakistan's top leaders, a Pakistani girl has claimed that Prime Minister Nawaz Sharif and ex-President Pervez Musharraf allegedly flirted with her on board a flight enroute to Islamabad.   
The rather suspect 'revelation', if you could call it that, came on a popular television show in Pakistan when a contestant Asma, who hails from Karachi, said that Nawaz Sharif even asked for her phone number.
Descrbing the whole incident during the audition of a Pakistani TV show, Asma said, "He (Nawaz Sharif) was constantly looking at me and smiling. He asked me what I do, if I am going to Islamabad, and then he told me that he lives in Islamabad."
According to her, Sharif not only flirted with her but, "In the course of our discussion, he then suddenly asked me what I am doing in the evening. I told him that I have not planned it yet," she said.
"So he invited me for a dinner with him," Asma acknowledged on the audition for the Washim Birmani show on HTV.
The girl also claimed that she had proof of the incident – picture that she had clicked with the PM.
While the show's host (judge) struggled to contain his amusement, Asma came up with another top-notch claim. According to the girl, not Nawaz Sharif, even former President Pervez Musharraf 'flirted' with her.
"But it was different, I liked it, I liked his way of flirting," she elaborated. "He asked me what I do. I told him nothing in particular. And I also told him that I like him."
Asma did not stop there and went on to draw comparisons between Musharraf and Sharif's styles of flirting.
"I liked his (Musharraf's) style because he looked romantic. But not Nawaz Sharif."
"I liked his personality, he was wearing a black coat," she blushed.