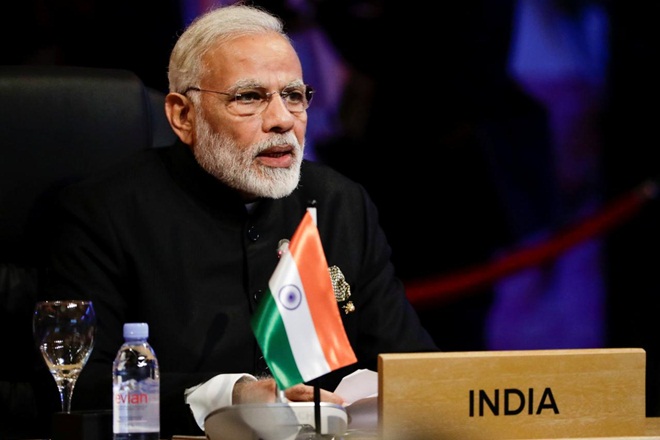 Prime Minister Narendra Modi will deliver his maiden keynote address today at the World Economic Forum, a global platform where world's top political and business leaders gather and deliberate on key economic agenda. 
In PM Modi's keynote speech, scheduled at 03:30 pm IST, the key message will be that India is open for business and the economy can contribute to world growth as living standards improve at home, said Foreign Secretary-designate Vijay Gokhale. 
He will also interact with the members of international business community of the WEF.
PM Modi, in his today's speech, is likely to hardsell India's key economic reforms and quick jump in World Bank's Ease of Doing Business rankings to invite global business players to come and 'Make in India'. 
In the largest ever Indian presence in the 48-year history of WEF summit in Davos, more than 130 Indian CEOs are present along with over 2,000 business leaders and 70 heads of states and governments. Besides, several other leaders from politics, business, academia, art, culture and civil society are also present for the event which opens on Monday and will close on Friday.  
On Monday, PM Modi told top CEOs at the opening ceremony of the forum that India means business and presents opportunity for the global business. 
Addressing a roundtable before a dinner meet, PM Modi narrated India's growth story. He was accompanied by top government officials including Vijay Gokhale, Jai Shankar and Ramesh Abhishek.
Under the tagline of "India means business", the roundtable was attended by 40 CEOs of global companies and 20 from India.
Earlier in the day, PM Modi held a bilateral meeting with Swiss President Alain Berset.
Berset greeted Modi with a warm handshake in this town in the Swiss Alps before leading the Indian leader to the meeting.
Modi discussed with the Swiss President ways to deepen bilateral ties. The two leaders "reviewed the scope of our bilateral cooperation", Modi said in a tweet.
Modi is the first Indian prime minister to attend Davos summit in 20 years.