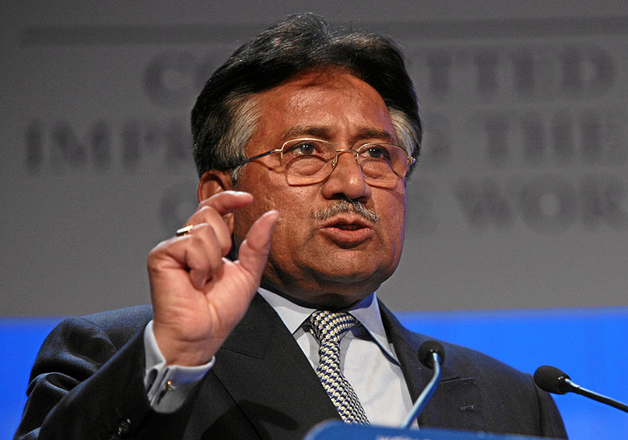 In a move that may spell further trouble for an already isolated Pakistan, former president and military dictator General Pervez Musharraf has demanded the release of 26/11 attacks mastermind and chief militant of Jammat-ud-Dawa (JuD) Hafiz Saeed who has been placed under house arrest by the provincial government.
Musharraf claims that Saeed's banned outfit was a 'very fine NGO' engaged in relief activities, Pakistani news website Dawn reported today.
"Hafiz Saeed should definitely be freed. They are not terrorists, they run a very fine NGO, they contribute to relief activities in post earthquake and post floods periods in Pakistan. They run great welfare organisations," he said. 
He even said that Saeed's Falah-e-Insaniyat Foundation (FIF) charity - a front for Jamaat-ud Dawah - was engaging 'religious' youth in relief and welfare activities.
"In my opinion they are against Taliban (in Pakistan), they did not commit any terrorism in Pakistan or anywhere in the world. So they should be dealt separately," he said. 
The government had last month included Saeed on Exit Control List, barring him from leaving the country. He was also put under house arrest for 90 days for engaging in activities prejudicial to peace and security. 
When asked about recent developments regarding JuD, he said, "We (as a nation) remain confused on terrorism, like we are confused in respect to JuD and Hafiz Saeed". 
"India is against them because their supporters go voluntarily to Kashmir to fight the Indian Army," he added. 
Saeed is a major irritant in the already strained relationship between India and Pakistan. He is actively involved in spewing venom against New Delhi. He has claimed that the JuD was a humanitarian charity organisation. The JuD has been blacklisted by the US, which had described it as a foreign terrorist organisation.
In 2012, the US placed a USD 10 million (Rs 66 crore) bounty for information leading to the arrest and conviction of Saeed, who is also the founder of the terror group Lashkar-e-Taiba.
With PTI Inputs