The death of Fidel Castro has provoked mixed response worldwide, with one side hailing the Cuban revolutionary as a 'great leader' and mourning his death while and others calling him a 'brutal dictator' and celebrating his death. 
In Cuba, weddings were cancelled and people wept in the streets as the death of the leader, who steered their island to both greater social equality and years of economic ruin, was announced. 
Across a hushed capital, dozens of Cubans said they felt genuine pain at the death of Fidel Castro, whose words and image had filled schoolbooks, airwaves and front pages since before many were born. And in private conversations, they expressed hope that Castro's passing will allow Cuba to move faster toward a more open, prosperous future under his younger brother and successor, President Raul Castro.
In Miami, a few hundred miles from Havana, the mood was entirely different as hundreds of Cuban-Americans celebrated the death of Fidel Castro and marveled that he remained in power for so long.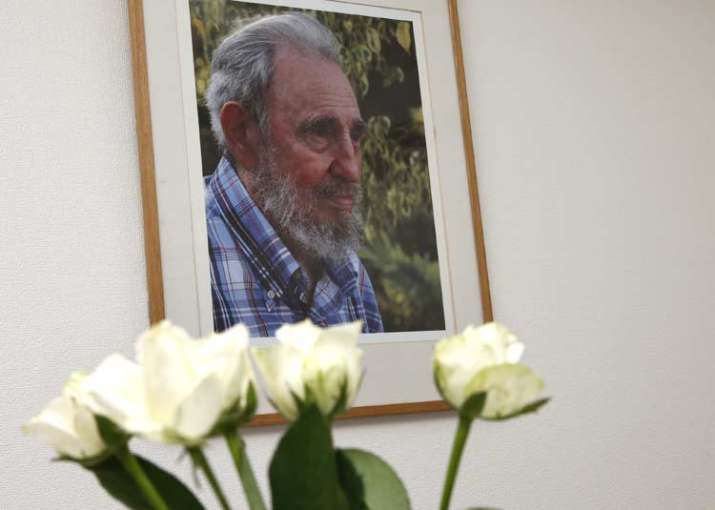 Both brothers, Rahul and Fidel led bands of bearded rebels out of the eastern Sierra Maestra mountains to create a communist government 90 miles from the United States. But since taking over from his ailing brother in 2006, the 85-year-old Raul Castro has allowed an explosion of private enterprise and, last year, restored diplomatic relations with Washington.
"Raul wants the country to advance, to do business with the whole world, even the United States," said Belkis Bejarano, a 65-year-old homemaker in central Havana. "Raul wants to do business, that's it. Fidel was still holed up in the Sierra Maestra."
In his twilight years Fidel Castro largely refrained from offer his opinions publicly on domestic issues, lending tacit backing to his brother's free-market reforms. But the older Castro surged back onto the public stage twice this year — critiquing President Barack Obama's historic March visit to Cuba and proclaiming in April that communism was "a great step forward in the fight against colonialism and its inseparable companion, imperialism."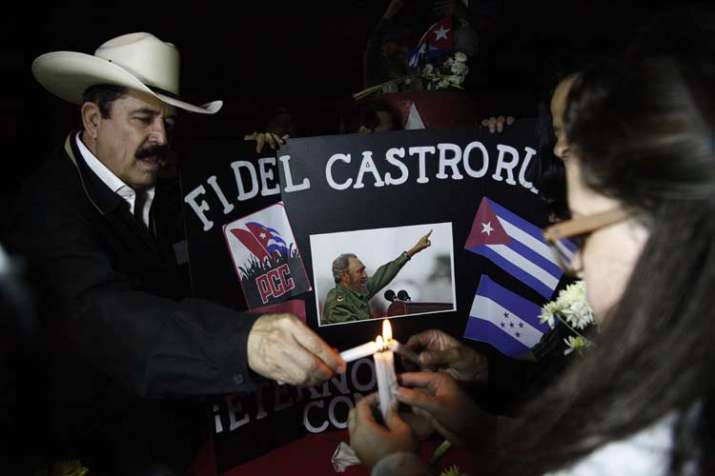 Ailing and without any overt political power, the 90-year-old revolutionary icon became for some a symbol of resistance to his younger sibling's diplomatic and economic openings. For many other Cubans, however, Fidel Castro was fading into history, increasingly at a remove from the passions that long cast him as either messianic savior or maniacal strongman.
On Saturday, many Cubans on the island described Fidel Castro as a towering figure who brought Cuba free health care, education and true independence from the United States, while saddling the country with an ossified political and economic system that has left streets and buildings crumbling and young, educated elites fleeing in search of greater prosperity abroad.
"Fidel was a father for everyone in my generation," said Jorge Luis Hernandez, a 45-year-old electrician. "I hope that we keep moving forward because we are truly a great, strong, intelligent people. There are a lot of transformations, a lot of changes, but I think that the revolution will keep on in the same way and always keep moving forward."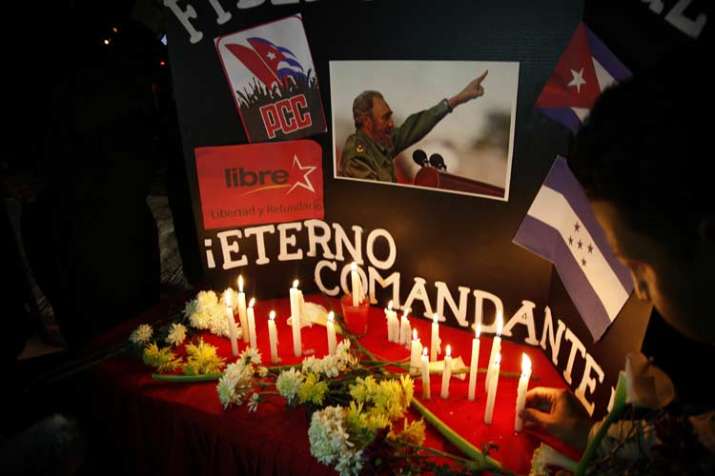 In 2013, Raul Castro announced that he would step aside by the time his current presidential term ends in 2018, and for the first time named an heir-apparent not from the Castro's revolutionary generation — Miguel Diaz-Canel, 56.
Fidel Castro's death "puts a sharper focus on the mortality of the entire first generation of this revolution," said Philip Peters, a Cuba analyst and business consultant, "and brings into sharper focus the absence of a group of potential leaders that's ready to take over and politically connected to the public."
For Cubans off the island, Castro's death was cause for celebration. In Miami, the heart of the Cuban diaspora, thousands of people banged pots with spoons, waved Cuban and U.S. flags in the air and whooped in jubilation.
"We're not celebrating that someone died, but that this is finished," said 30-year-old Erick Martinez, who emigrated from Cuba four years ago.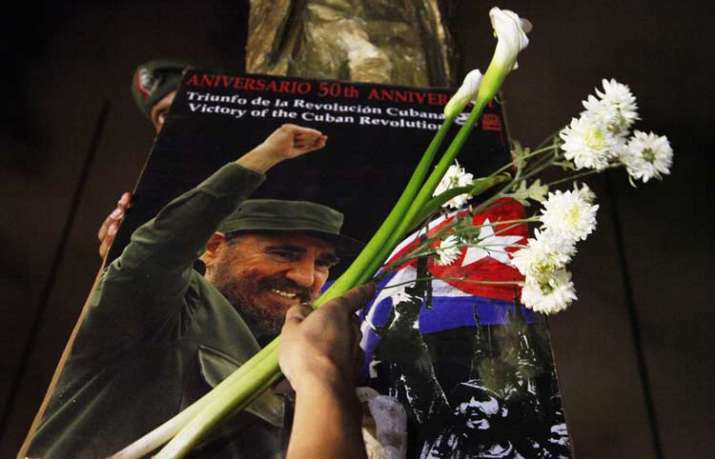 The Cuban government declared nine days of mourning for Castro, whose ashes will be carried across the island from Havana to the eastern city of Santiago in a procession retracing his rebel army's victorious sweep from the Sierra Maestra to Havana. State radio and television were filled with non-stop tributes to Castro, playing hours of footage of his time in power and interviews with prominent Cubans affectionately remembering him.
Bars shut, baseball games and concerts were suspended and many restaurants stopped serving alcohol and planned to close early. Official newspapers were published Saturday with only black ink instead of the usual bright red or blue mastheads.
Many Cubans, however, were already imagining the coming years in a Cuba without Fidel Castro.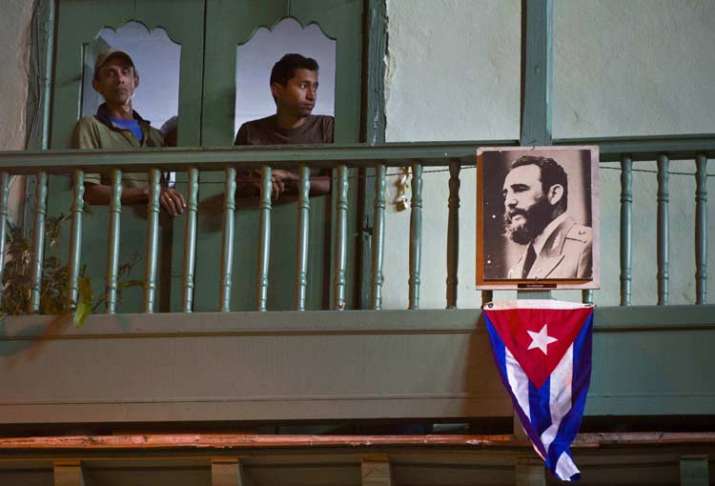 "Fidel's ideas are still valid," said Edgardo Casals, a 32-year-old sculptor. "But we can't look back even for a second. We have to find our own way. We have to look toward the future, which is ours, the younger generations'."
Miami's joyous Cubans hope for change with Castro's death
Cuban exiles in US tried numerous ways to dislodge Castro after he took power in 1959, including the failed 1961 CIA-backed invasion memorialized on his shirt. They are now hopeful for Cuba's future with the bearded revolutionary leader finally gone.
Thousands of people took to the streets of Miami and nearby cities Saturday shortly after the early morning announcement of Castro's death at age 90, and kept the party going all day. They banged pots with spoons, honked car horns, waved Cuban and U.S. flags in the air and whooped in jubilation on Calle Ocho — as Little Havana's 8th Street is universally known.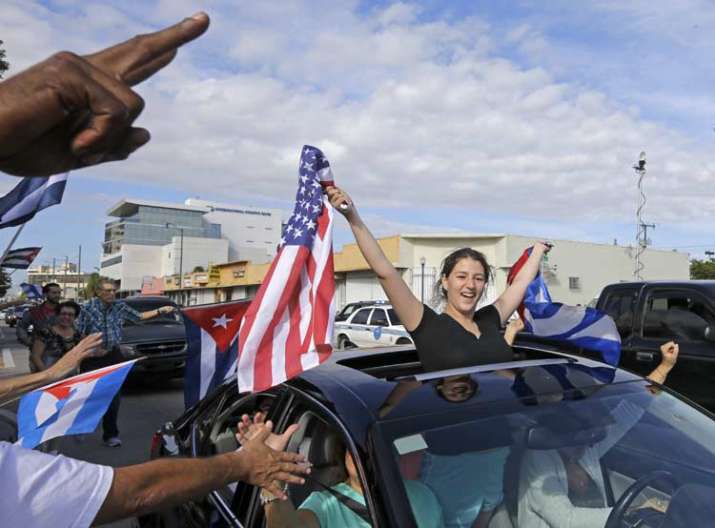 Police blocked off streets leading to Cafe Versailles, the quintessential Cuban-American hotspot where strong cafecitos — sweetened espresso — were as common as a harsh word about Castro, the nemesis of so many exiles for so long. Many said they recognize his death alone doesn't mean immediate democracy or freedom for the communist island.
"We need for the people of Cuba to have the freedom we have in the U.S., but this changes nothing. There won't be change until the people revolt," said Juan Cobas, 50, who came to the U.S. from Cuba at age 13.
Others saw Fidel's death as a sign that a generation that has ruled Cuba for decades is passing from the world stage, many noting that his brother, current President Raul Castro, is 85.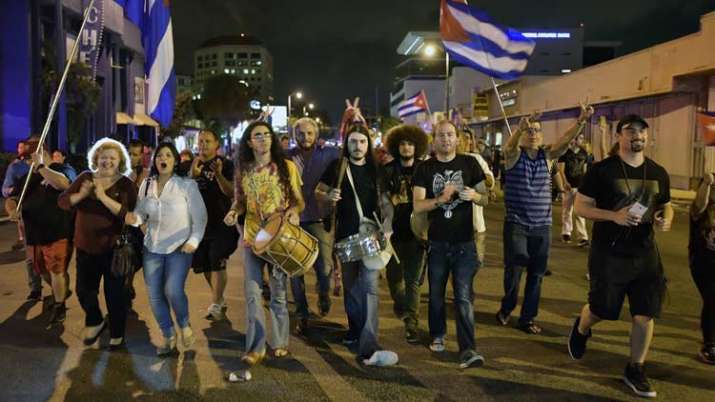 "I'm feeling this is the beginning of the end," said Alex Pineiro, 32. "Fidel was the architect of what's going on. It's a mix of emotions, I'm happy he's dead, but I'm celebrating hope."
After Castro took power, Cubans fled the island to Miami, Tampa, New Jersey and elsewhere. Some were loyalists of Fulgencio Batista, the president prior to Castro, while others left with the hope they would be able to return soon, after Castro was toppled. He never was.
Many other exiles believed they would never be free under Castro and his communist regime. Thousands left behind their possessions, loved ones, and hard-earned educations and businesses, traveling to the U.S. by plane, boat or raft. Many Cubans died on the ocean trip to South Florida. Some had land and possessions taken by the Castro government.
Some people said the election of Donald Trump as president could lead to a tougher stance against the Havana government that might hasten change.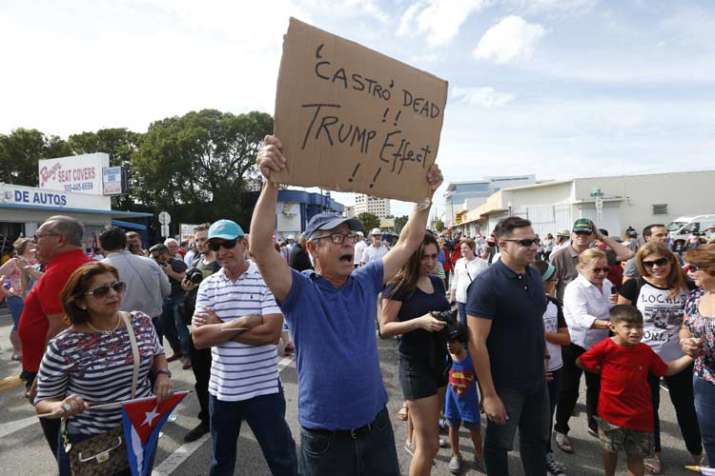 "I hope that Trump takes a hard line against the Castro regime," said Henry Marinello, 60, who left Cuba as a child in 1961.
On New Year's Eve every year, Cubans in Miami utter a toast in Spanish as they hoist glasses of liquor: "Next year in Cuba." But as the Cuban exiles aged, and as Castro outlived them, and as President Barack Obama eroded the embargo and younger Cubans returned to the island, the toast rang silent in many households.
News of Castro's death was long anticipated and had been the subject of countless rumors over the decades, so that it became something of a running joke. This time, though, it was real.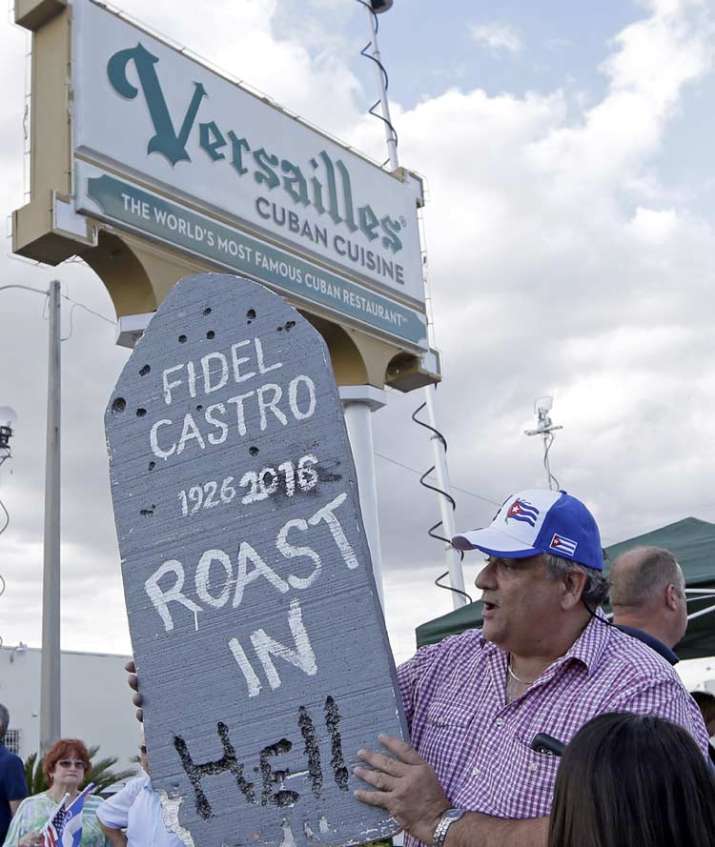 "We're all celebrating, this is like a carnival," said 72-year-old Jay Fernandez, who came to Miami when he was 18 in 1961 after he was jailed twice by the Cuban government. He and his wife and another woman held up a bilingual sign he'd made four years ago when Castro first became ill. "Satan, Fidel is now yours. Give him what he deserves. Don't let him rest in peace."
(With AP inputs)