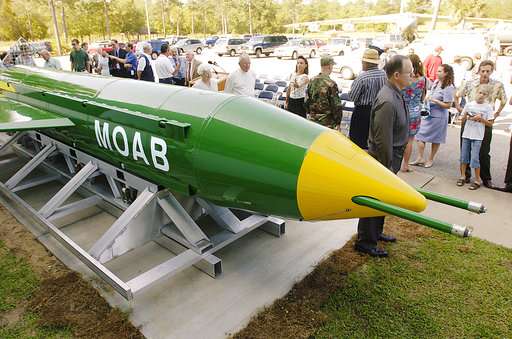 The massive GBU-43 bomb also known as "mother of all bombs', dropped by the US military in Afghanistan, has killed at least 90 Islamic State (ISIS) militants.
A senior Afghan official confirmed the toll to the British Broadcasting Corporation (BBC).
However, no civilians were killed in the explosion, he added. 
The GBU-43, a non-nuclear, 10-tonne missile powered by a wave of air pressure, was dropped on Thursday onto caves used by the terror group in Achin district.
The Chief Executive of Afghanistan, Abdullah Abdullah, said the attack had been carried out in co-ordination with his government and "great care had been taken to avoid civilian harm". 
After the strike, General John Nicholson, the most senior US military commander in Afghanistan, said: "The enemy had created bunkers, tunnels and extensive mine fields, and this weapon was used to reduce those obstacles so that we could continue our offensive in southern Nangarhar."
On Friday, the Pentagon released video footage of the moment the GBU-43 bomb destroyed the caves and tunnels with an explosive power equivalent to 11 tonnes of TNT, Efe news reported.
(With IANS inputs)