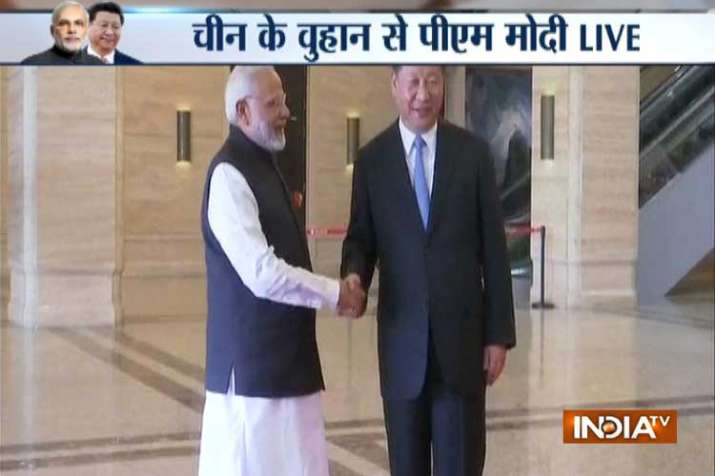 PM Narendra Modi on Friday met Chinese president Xi Jinping as part of a two-day "heart-to-heart" summit in Wuhan. The prime minister held one-to-one talks with the Chinese president with focus on global, regional and bilateral issues. However, as per officials, no agreement would be signed during the informal talks. An official version of what transpired in the meeting between the two leaders is yet to be known. 
"A special moment past midnight as PM @narendramodi was warmly welcomed in Wuhan for the 1st Informal Summit with Chinese President Xi. The two leaders will review the developments in our bilateral relations from a strategic and long-term perspective," External Affairs Ministry spokesperson Raveesh Kumar tweeted. 
Some experts are of the view that the visit could reset a complicated India-China relationship that faced several tests last year, including a tense border standoff in Doklam.
HERE ARE THE HIGHLIGHTS:
04:02 pm: I hope such informal summits becomes a tradition between both the countries. I'll be happy, if in 2019, we can have such informal summit in India: PM Modi
04:00 pm: We(India-China) have the responsibility to work for 40% of the world population, this means trying to successfully get the world rid of many problems. To work together towards this is a big opportunity for us
03:50 pm: The people of India feel really proud that I'm the first Prime Minister of India, for whom, you (Chinese President) have come out of the capital twice to receive me: Prime Minister Narendra Modi in Wuhan
03:40 pm: 
Prime Minister Narendra Modi & Chinese President Xi Jinping hold delegation level talks in Hubei. #China pic.twitter.com/9sUE6G9Ajw

— ANI (@ANI) April 27, 2018
1:50 pm: When I was the Chief Minister of Gujarat, I had the opportunity to visit Wuhan. Heard a lot about the Three Gorges Dam. The speed with which you constructed it and the scale inspired me. So I came on a study tour, spent a day at the dam, says PM Modi
1:20 pm: The outcome and official version of the meeting between PM Modi and Xi Jinping is still awaited.
1:10 pm: PM Narendra Modi meets Chinese President Xi Jinping in Wuhan.
1:00 pm: PM Modi and Xi Jinping are expected to meet shortly in first of a kind informal summit.
12:50 pm: The meeting comes in the backdrop of the efforts made by both India and China to move past the tensions, which rose out of last year's 73-day Doklam standoff.
12:30 pm: PM Modi will commence his meetings with Chinese President Xi at 3:30 pm on Friday at the Hubei Provincial Museum.
12:00 pm: Though, the details of the informal summit was not disclosed but officials said it includes walks by the two leaders in the East Lake where they will have a boat ride and take walks. 
11:46 pm: After touring the museum for about an hour, the two leaders, accompanied by six top officials from each side, will hold talks at the sprawling East Lake Guest House, where Xi is staying.
11:15 pm: In a pre-departure statement, Prime Minister Modi said he and President Xi will review the developments in Sino-Indian relations from a strategic and long-term perspective. "President Xi and I will exchange views on a range of issues of bilateral and global importance. We will discuss our respective visions and priorities for national development, particularly in the context of current and future international situation," Modi said. 
11:00 pm: Ahead of the summit, China said the arrangements being made for Modi's stay in Wuhan would go beyond the expectations of the Indian side and the informal summit could be a new starting point.