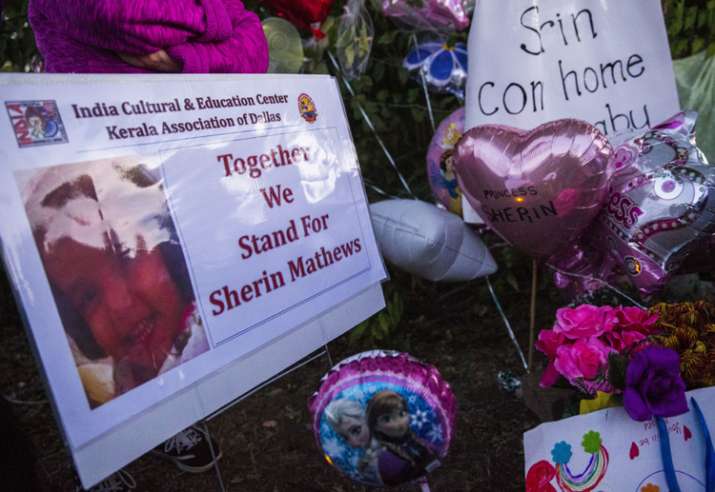 The foster father of a 3-year-old Indian girl Sherin Mathews, who was found dead yesterday after missing for over two weeks, has told police that his daughter choked on milk and he "believed she had died". 
Sherin, who had developmental issues and limited verbal communication skills, was last seen outside her family's backyard in Richardson city in Texas on October 7. 
The US police announced yesterday that they discovered the remains of a small child in a tunnel beneath a road and medical examiners used dental records to identify the body and confirmed it was that of missing Indian girl. Her cause of death is still pending. 
Father charges with first-degree felony 
The Richardson Police Department has re-arrested the foster father of the girl and charged him with first-degree felony injury to a child, a crime punishable by up to life imprisonment. He was arrested on Monday after voluntarily giving new answers to investigators' questions about his daughter's disappearance.
Wesley Mathews, 37, who hails from Kerala, is being held on USD 1 million bond, Richardson police Sgt. Kevin Perlich said.
Mathews and his wife reportedly adopted Sherin two years ago from an orphanage in Bihar. 
According to an arrest affidavit, Mathews told police that his daughter choked while drinking milk and he removed her body from the house as he "believed she had died". 
He said he "physically assisted" Sherin in drinking her milk when she wouldn't listen to him, according to the warrant. 
"She was coughing and her breathing slowed," the affidavit said. 
"Eventually, Wesley Mathews no longer felt a pulse on the child and believed she had died," it said. 
Mathews was arrested yesterday and charged with injury to a child, a first-degree felony. 
He voluntarily turned himself in, police said. He gave a statement that was different than he had initially given.
Mathews had previously claimed that Sherin went missing after he sent her outside their home in suburban Dallas in Texas state at around 3 am on October 7 as punishment for not drinking her milk. 
He was arrested then and charged with felony endangerment to a child and was placed on electronic ankle monitoring. He also surrendered his passport as a condition of making bond on October 9. 
He was re-arrested for felony injury to a child after providing investigators at the Richardson Police Department with the conflicting story.
The FBI has seized dozens of items from the family's home and their vehicles between October 8 and 12, including a washer and dryer, electronics and DNA swabs.
(With agencies)