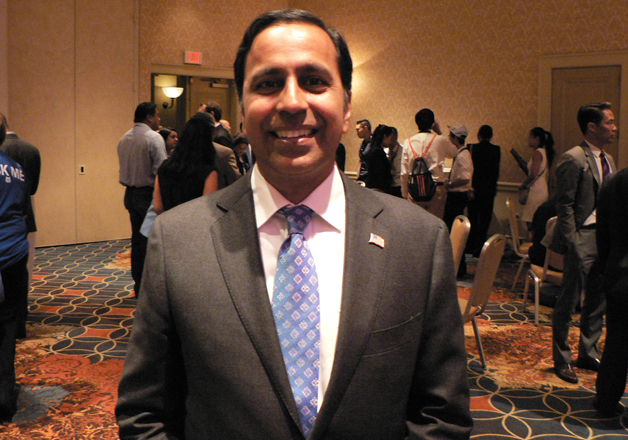 Democrat's Raja Krishnamoorthi has won a seat in the House of Representatives from Ilinois, becoming the fourth Indian-American elected to the Congress.
He was elected from the Illinois Eighth Congressional District that covers some of the suburbs around Chicago.
The 43-year-old defeated Republican Peter DiCianni in the traditionally Democratic constituency.
Born in New Delhi, he is a lawyer by profession and has served as a state assistant attorney general on a special assignment to fight corruption and as a state deputy treasurer.
He has since become a technology entrepreneur heading two companies -- Sivananthan Laboratories and Episolar Inc., which develop and sell technology for military and civilian customers.
His family moved to Buffalo, New York, when he was three months old, so that his father could attend graduate school. They lived in public housing and used food stamps. In 1980, his family moved to Peoria, Illinois. His father became a professor at Bradley University.
Krishnamoorthi attended Princeton University, where he earned a bachelor's degree in mechanical engineering. He then received a Juris Doctor from Harvard Law School.
He had worked as a staffer on Barack Obama's 2000 election campaign for the United States House of Representatives. Krishnamoorthi served as an issues director for Obama's 2004 election to the United States Senate. He had also aided in the development of Obama's 2004 Democratic National Convention keynote address.
Krishnamoorthi is married to a doctor, Priya, and they have two sons and a daughter.
He represents the class of upcoming young political leaders. At the Democratic Party Convention in July, the party leadership had presented him as a 'New Leader of Tomorrow'. Outgoing President Barack Obama had even in a video urged voters to elect his 'good friend', who helped him develop ideas for building an economy that works for everyone.
Krishnamoorthi follows Dalip Singh Saund, who became in 1956 the first Indian American elected to Congress, Bobby Jindal elected in 2004 and Ami Bera in 2014.