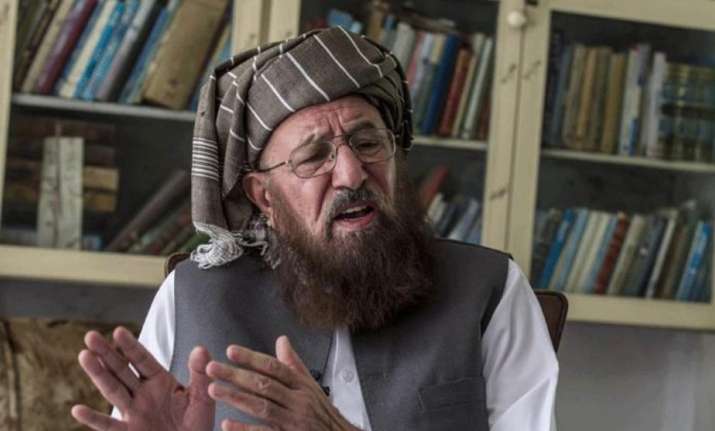 Prominent Pakistani cleric Maulana Samiul Haq, who was also known as the godfather of Taliban, was killed in a gun attack in the garrison city of Rawalpindi on Friday, according to media reports.
Haq, 82, was the head of the Islamic religious seminary Darul Uloom Haqqania in Khyber Pakhtunkhwa's Akora Khattak town and also the chief of the hardline political party Jamiat Ulema-i-Islam-Sami (JUI-S), the Geo News reported. 
He was killed by unidentified attackers in a house where he was staying, his son was quoted as saying by the report. 
JUI-S's Peshawar president also confirmed Haq's death following an assassination attempt in Rawalpindi. 
Initially there were conflicting reports about how Haq was killed. Some Pakistani media had reported that he was killed in a gun attack. 
Haq's son has clarified that the cleric was attacked with knife. 
Mulana Abdul Majid Hazarwi, a close associate of Haq, also confirmed that he was attacked with knife.
So far, no outfit has claimed the responsibility of the killing. 
Haq was elected twice to Pakistan's parliament on Islami Jamhoori Itehad ticket.
He was also the chairman of the Difa-e-Pakistan Council -- an umbrella coalition of more than 40 groups, including Hafeez Saeed-led Jamat-ud Dawa (JuD) and the banned Sipah-e-Sahaba.
Haq's madrassa in Akora Khattak is known for having several top Afghan Taliban leaders among its alumni, including Mullah Omar who had received an honorary doctorate from the seminary.
Haqqani Network founder Jalaluddin Haqqani, Al-Qaeda in the Indian Subcontinent (AIQS) leader Asim Umar and slain Afghan Taliban chief Mullah Akhtar Mansoor were also among the alumni of the seminary which is dubbed as the "University of Jihad".
Meanwhile, Pakistan's Minister of State for Interior, Sheryar Afridi, condemned Haq's killing and said, "The political and religious services of the Mualana will be remembered forever." 
Maulana Fazlur Rehman, chief of Jamiat Ulema-i-Islam- Fazl (JUI-F), also condemned the attack. "I am with the family of the Maulana at this difficult hour," he said