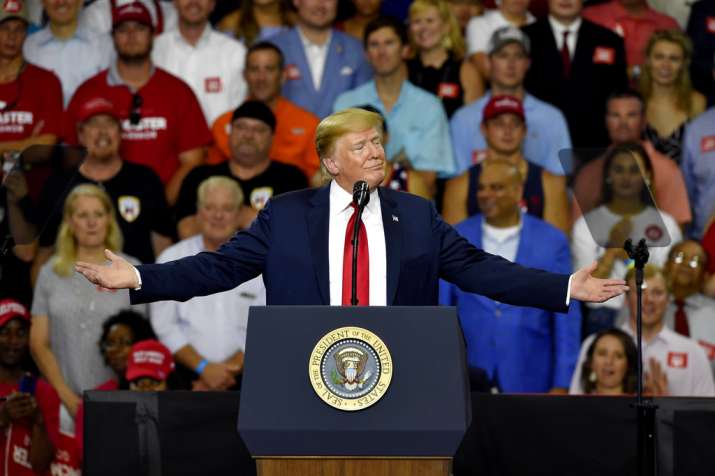 The US Supreme Court on Tuesday upheld President Donald Trump's controversial travel ban on nationals from several Muslim-majority countries entering America. The Supreme Court's ruling comes as a major endorsement of Trump's immigration policy.
President Trump's travel ban was fiercely criticised and opposed by opposition Democratic lawmakers and human rights bodies.
In fact, several Democratic-ruled states had challenged Trumps travel in court.
The US Supreme Court in a 5-4 ruling upheld Trumps third proclamation on the travel ban.
In a proclamation in September 2017, Trump had placed entry restrictions on nationals of eight foreign nations whose systems for managing and sharing information about their nationals he deemed inadequate.
These countries were - Chad, Iran, Iraq, Libya, North Korea, Syria, Venezuela and Yemen. He later removed the ban on Iraq and Chad.
Upholding Trumps travel ban, the Supreme Court ruling said the proclamation creates a waiver programme open to all covered foreign nationals seeking entry as immigrants or non-immigrants.
Under these circumstances, the government has set forth a sufficient national security justification to survive rational basis review, the court said.
The US president welcomed the Supreme Court's ruling with a "Wow!"
"SUPREME COURT UPHOLDS TRUMP TRAVEL BAN. Wow!" Trump tweeted.
SUPREME COURT UPHOLDS TRUMP TRAVEL BAN. Wow!

— Donald J. Trump (@realDonaldTrump) June 26, 2018
Welcoming the Supreme Court's verdict, President Trump said,"Todays Supreme Court ruling is a tremendous victory for the American People and the Constitution. The Supreme Court has upheld the clear authority of the president to defend the national security of the United States."
"In this era of worldwide terrorism and extremist movements bent on harming innocent civilians, we must properly vet those coming into our country," he added.
Trump further said that this ruling is also a moment of profound vindication following months of hysterical commentary from the media and Democratic politicians who refuse to do what it takes to secure our border and our country.
"As long as I am President, I will defend the sovereignty, safety, and security of the American people, and fight for an immigration system that serves the national interests of the United States and its citizens. Our country will always be safe, secure, and protected on my watch," Trump asserted.
"This is a great victory for the safety and security of all Americans," said Attorney General Jeff Sessions.
The Constitution and Acts of Congress confer on the President broad discretion to protect the interests of the United States, he said.
Todays decision is critical to ensuring the continued authority of President Trump and all future presidents to protect the American people. We will continue to take and defend all lawful steps necessary to protect this great nation, Sessions said.
The opposition Democrats described it as a sad day.
Discrimination is not a national security strategy, and prejudice is not patriotism. Lets call this ban for what it is: an outright attack on the Muslim community that violates our nations commitment to liberty and justice for all, said Democratic National Committee chair Tom Perez.
This is a sad day for America and it smears our nations reputation as a welcoming and tolerant society far and wide. I am deeply disappointed that the US Supreme Court has, once again, fully and completely endorsed discrimination, said Congressman Bobby Rush.
Congresswoman Zoe Lofgren said she is deeply disappointed that the Supreme Courts majority failed to give sufficient weight to Trumps stated anti-Muslim intent in issuing his travel ban. As a country of immigrants that has been a refuge for people from around the world, this decision is contrary to who we are as a nation, she said.
This is a dark day for America. The Supreme Court ruling in Trump v Hawaii betrays our Constitution and advances fear, rather than facts, said Congresswoman Barbara Lee.
The Trump administration said the ruling is a step forward in securing the country.
Todays ruling confirms the legality of these critically important executive actions, and the Department of Homeland Security will continue to faithfully execute our countrys immigration laws and treat everyone we encounter humanely and with professionalism, the Department of Homeland Security said in a statement.
"It is the duty of the government to ensure that those seeking to enter our country will not harm the American people," it said.
"While we have the most generous immigration system in the world, it has repeatedly been exploited by terrorists and other malicious actors who seek to do us harm.
President Trumps executive actions take important steps to protect the American people by allowing for the proper review and establishment of standards to prevent terrorist or criminal infiltration by foreign nationals," the official release said.
(With PTI inputs)