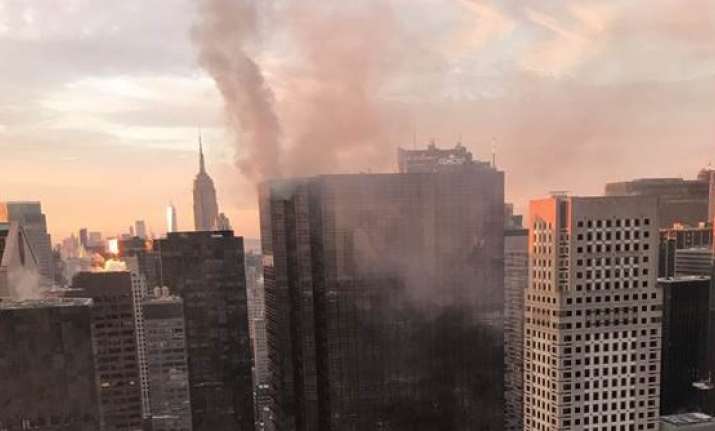 A minor fire broke out on the roof of Trump Tower in New York City on Monday. At least two people have been injured in the incident.
The Fire Department of New York said it was called around 7 AM today for a report of a fire on the top floor.  Aerial views showed firefighters on the roof, with smoke billowing from one corner of the high-rise. 
According to Good Morning America, the fire officials said that the source of spark was an electrical box. 
The fire department said two people were injured. The FDNY said the fire was under control shortly after 8 am.
The 58-storey building is President Donald Trump's business head quarters. He also keeps a residence at the building. 
Eric Trump, the President's son and an executive vice president at the Trump Organization, confirmed the rooftop cooling tower ignited.
"The New York Fire Department was here within minutes and did an incredible job. The men and women of the #FDNY are true heroes and deserve our most sincere thanks and praise!" he tweeted.
There was a small electrical fire in a cooling tower on the roof of Trump Tower. The New York Fire Department was here within minutes and did an incredible job. The men and women of the #FDNY are true heroes and deserve our most sincere thanks and praise! https://t.co/xuTmq1GBbj

— Eric Trump (@EricTrump) January 8, 2018
DEVELOPING: Fire at New York City's Trump Tower; aerial views show firefighters on the roof pic.twitter.com/LBqYMCa1kG

— CBS News (@CBSNews) January 8, 2018
Fire at #trumptower pic.twitter.com/KTtTFLV6V5

— James Harvey (@jjh34567) January 8, 2018
So Trump Tower NYC seems to be on fire... Photos courtesy of my Cousin. #trumptower pic.twitter.com/MGhoq9zfBB

— Hugh Curran (@hughcurran) January 8, 2018
#BREAKING Scene outside Trump Tower after fire breaks out @Telemundo47 @NBCNewYork #TrumpTower pic.twitter.com/2geumnRVvb

— Cristian Benavides (@cbenavidesTV) January 8, 2018