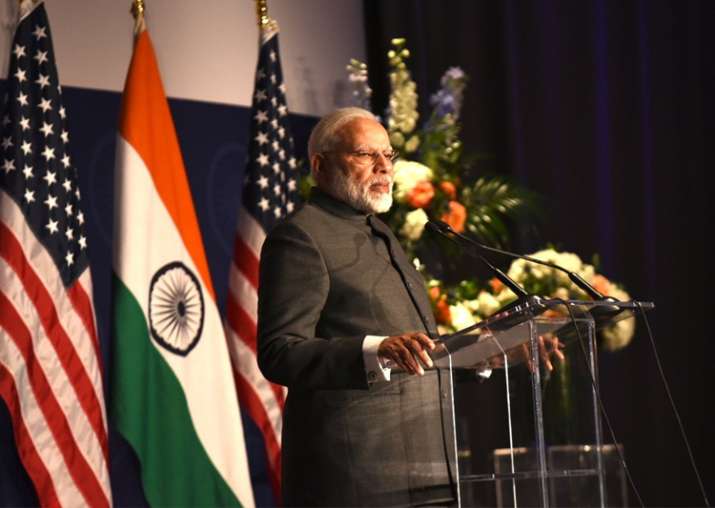 After a brief stop in Lisbon, Portugal, Prime Minister Narendra Modi arrived in United States in the second leg of his three-nation tour.
Addressing the Indian diaspora in Washington DC's suburb of Virginia, Modi highlighted the achievements of his government. "The reasons governments have been defeated in India are things like corruption and cheating. People of India do not like corruption. There has not been a single stain of corruption on my government in last 3 years," he said.
On terrorism, he said that 'when India was raising the issue of terrorism, many nations were calling it a law and order problem'. 
"However, terrorists have explained terrorism to them, so we don't have to. Today, the world is troubled by terrorism. This terrorism is an enemy of mankind," he said.
On surgical strikes, he said, "When India did surgical strikes the world experienced our power and realized that India practices restrain but can show power when needed. No country questioned India's decision to conduct surgical strikes against terrorism."
Earlier in the day, Modi today said that India has now emerged as a business-friendly destination and asked CEOs of top US companies to invest in the country. 
Modi also said India attracted largest foreign direct investment (FDI) as a result of the NDA government policies in the last three years, during his interaction with a group of CEOs of top 20 American firms.
Highlights: 
Our foreign ministry and in particular our foreign minister, @SushmaSwaraj has shown the way in helping people: PM @narendramodi pic.twitter.com/NtJ7ShaJDB

— PMO India (@PMOIndia) June 25, 2017
* The Indian diaspora has faith that in times of trouble the local embassy is there to help: PM Modi
It is for everyone to see how MEA has, in addition to their routine work, emerged as a strong humanitarian force for Indians globally: PM pic.twitter.com/9D3TOC5j70

— PMO India (@PMOIndia) June 25, 2017
* Keep the bridge with India. Your younger generations must continue your strong bond with India: PM Modi to the Indian diaspora in USA
If you want to give back to India, this is the best time to do so: PM @narendramodi to the Indian community in USA

— PMO India (@PMOIndia) June 25, 2017
* Not a single country questioned India's surgical strikes, says PM Modi
* When we (India) conducted the surgical strikes, it gave out a clear message that we are patient but when the time comes, we can prove our might: PM Modi
* India has succeeded in telling the world about the need to uproot the menace of terrorism: PM Narendra Modi 
* When India talked of terrorism 20 years back, many in the world said its a law & order problem and didn't understand it. Now terrorists have explained terrorism to them so we don't have to: PM Modi
* With proper policies and governance, aspirations of people of India can become achievements. We are already seeing the results of this: PM Modi
* Through technology driven governance we are creating an 'Adhunik Bharat' : PM Narendra Modi
The youth of India understands technology and the importance of technology very well: PM @narendramodi pic.twitter.com/eyLohoNOJG

— PMO India (@PMOIndia) June 25, 2017
* Transparent policies create an environment of trust among the people: PM 
* When I think of a developed India, I think of a healthy India, particularly the good health of the women and children of our nation: PM Modi
Increased usage of technology brings transparency in systems: PM @narendramodi

— PMO India (@PMOIndia) June 25, 2017
Today, I bow my head and say with all modesty that there has been no black spot in the govt's work in the past three years: PM Modi
* The reasons governments have been defeated in India are things like corruption and cheating. People of India do not like corruption: Modi
* You found a favourable environment in the USA which enabled you to grow. And as you grew, so did the USA: PM Modi
* I can see that every Indian wants to contribute towards India's development. India is progressing at a record pace today: Modi
​
I assure you all that I will work towards achieving the India of your dreams: PM Modi to Indian diaspora #ModiInUS pic.twitter.com/cvnzN3Fq3A

— ANI (@ANI) June 25, 2017
* About the Indian diaspora, I can say that they rejoice when there is good news from India & want India to scale newer heights: PM Modi
* In this programme I see both a mini-India and a mini-USA. People from all the states of both the nations are represented here today: PM
"Today it feels as if I am addressing a Little 🇮🇳 & Little 🇺🇸Together"- PM @narendramodi on the #DiasporaConnect pic.twitter.com/utyq79J2Ee

— India in USA (@IndianEmbassyUS) June 25, 2017
* My address at Madison Square has became an introduction of myself. Whenever I meet foreign leaders, they talk about it: PM 
* I have travelled across USA before I became a CM or PM. And after taking over as PM, the warmth the Indian community gave is memorable: PM
* I see immense energy in the Indian community that is based in USA: PM Modi
​
* When I meet you all I experience the kind of joy one feels while meeting his/her family. You fill me with new energy: PM Modi