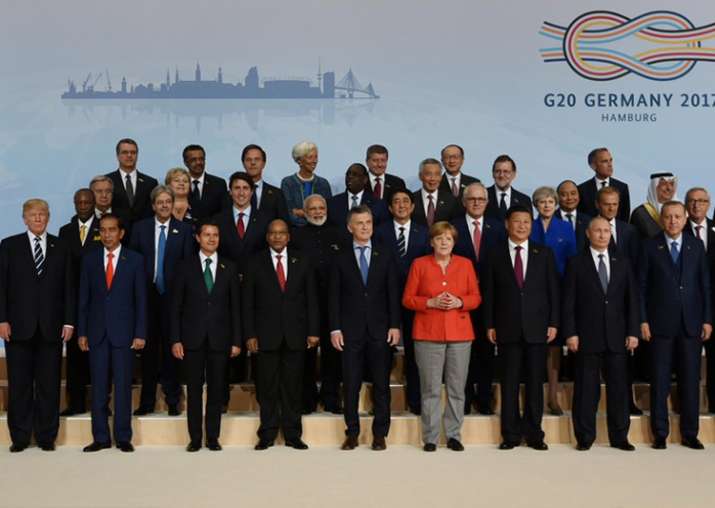 Bracketing Pakistan-based terror groups like LeT and JeM with ISIS and al-Qaeda, Prime Minister Narendra Modi today made a strong pitch for global 'deterrent' action against countries that support terrorism for their political goals. 
Modi, who was a lead speaker on the theme of terrorism at the Leaders Retreat at the G-20 Summit, also presented a 11-point action plan to counter terror, including a ban on the entry of officials from terrorism-supporting countries into G-20 nations, External Affairs Ministry Spokesperson Gopal Baglay said. 
"The Prime Minister leads the way on one of the most grave issues of our times...," Baglay tweeted. 
PM @narendramodi :
Very important to understand terrorism before action pic.twitter.com/8SP1PXqWcJ

— Raveesh Kumar (@MEAIndia) July 7, 2017
Apart from calling for exchange of national lists of suspected terrorists and for joint action against such terrorists and their supporters, Modi also pitched for simplification and expediting of legal recourses like extradition for effective action against terrorists. Without naming Pakistan or any other country, he said the basic form of terrorism is based on 'different names and one thinking' as he listed ISIS and al-Qaeda in the Middle East, Lashkar-e-Taiba (LeT) and Jaish-e-Mohammad (JeM) and the Haqqani network in South Asia and Boko Haram in Nigeria as 'some names related to terrorism'. 
He said that the basic ideology of all these groups is 'hatred and killing'. "Some nations are using terrorists to further their political goals," Modi said while terming the international cooperation in fighting this menace as inadequate.
PM welcomed plan of action in #G20 on Counter Terrorism and presented 11 point action agenda for it pic.twitter.com/Ig6maKcX1y

— Raveesh Kumar (@MEAIndia) July 7, 2017
"Today, countries are less networked in terms of response and terrorists are better networked as the scope of our actions are mostly national," he said, while calling terrorism as the biggest challenge before the world. 
An immediate adoption of Comprehensive Convention on International Terrorism (CCIT) is required, and so is the implementation of other international measures and of the UN Security Council resolutions in this regard, Modi asserted. He also called for joint efforts by G20 on de-radicalisation and on exchange of best practices. Modi sought effective implementation of recommendations made by the Financial Action Task Force (FATF) on terror financing and suggested setting up of an Explosive Action Task Force. 
Observing that terrorists are using cyber space for misleading the youth and for radicalisation and recruitment, he called for concrete cooperation in this area in the context of terror activities and suggested putting a mechanism in place within the grouping for national security advisors on counter terrorism. 
Earlier at the informal meeting of the BRICS nations, the Prime Minister asked the G20 nations to collectively crackdown on terror financing, safe havens, 'support and sponsors' of terrorism. He also urged leaders from the BRICS nations to show leadership in fighting terrorism and boosting global economy.