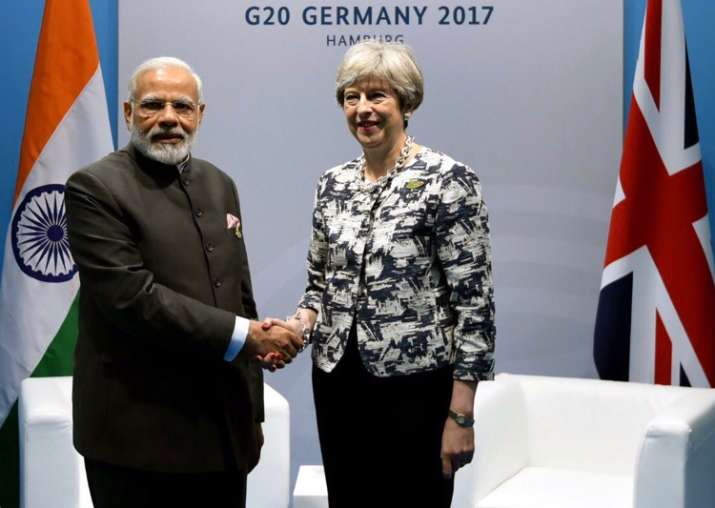 As India works hard to ensure return of fugitive liquor baron Vijay Mallya, Prime Minister Narendra Modi today pressed upon his British counterpart Theresa May to ensure UK's cooperation to bring back economic offenders.
Modi today met May during a bilateral meeting on the sidelines of the G20 Summit here and sought UK's help in this regard. Both leaders also talked about the complete range of India-UK ties.
In a tweet after the meeting, External Affairs Ministry Spokesperson Gopal Baglay said the Prime Minister asked for UK's "cooperation for return of escaped Indian economic offenders".
Mallya has been in the UK since March 2016, escaping arrest warrants against him, while a court in London is also hearing a case regarding his return to India. Mallya is wanted in India for Kingfisher Airlines' default on loans worth nearly Rs 9,000 crore.
PM @narendramodi meets UK PM @theresa_may on sidelines of #G20. Asks for UK's cooprn for return of escaped Indian economic offenders pic.twitter.com/VAwIp5ySvo

— Raveesh Kumar (@MEAIndia) July 8, 2017
In April, he had attended a central London police station for his arrest and was released on conditional bail a few hours later after providing a bail bond worth 650,000 pounds, assuring the court of abiding by all conditions associated with extradition proceedings, such as the surrender of his passport and a ban on him possessing any travel documents.
India and the UK have an Extradition Treaty, signed in 1992, but so far only one extradition has taken place under the arrangement -- Samirbhai Vinubhai Patel, who was sent back to India last October to face trial in connection with his involvement in the post-Godhra riots of 2002.
"Prime Ministers @narendramodi and @theresa_may met and held talks on the complete range of India-UK ties," India's PMO said in a tweet.
Earlier this week, a UK court had rejected Mallya's request to shift the final hearing date in his extradition case to next year and fixed it for December 4. The Crown Prosecution Service (CPS), arguing on behalf of the Indian government, told the Westminster Magistrates' Court in London that they had "excellent cooperation" with the Indian authorities in the case and now had sufficient material to establish a prima facie case for the extradition of the 61-year-old former chief of erstwhile Kingfisher Airlines. 
The CPS also informed the court that the Indian authorities had been "anticipating issues" that may block the extradition and had already been engaging on prison conditions in India by giving "detailed assurances" on the matter. However, Mallya's defence team claimed they had received hundreds of pages of "further material being relied upon" and that more time should be provided for them to review the material and keep a final date for hearing open in April 2018.