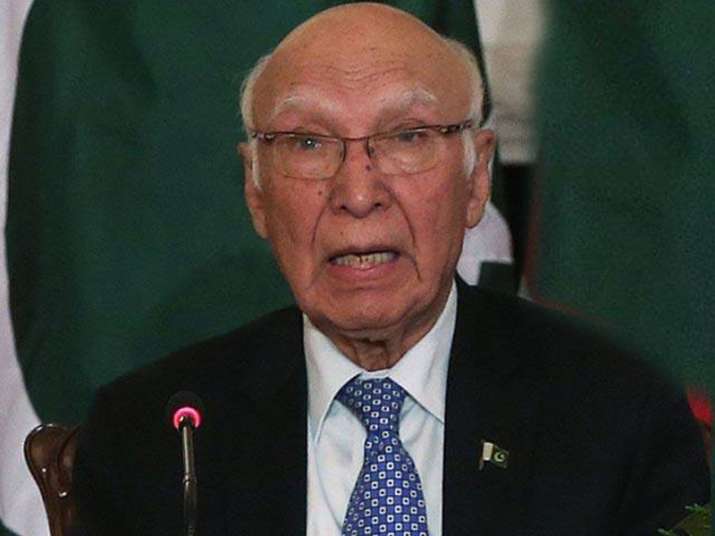 Pakistan's top diplomat Sartaj Aziz today blasted India's claims that former naval official Kulbhushan Jadhav was 'innocent' and maintained that he was sentenced according to the country's law.
Aziz, who also is Advisor to Pakistan Premier Nawaz Sharif on Foreign Affairs, said that Jadhav has 40 days to file an appeal in the apex court.
Aziz further warned India to stop issuing 'rhetorical statements' against Islamabad over the issue.
"He was sentenced as per the law of the land.. He (Jadhav) was involved in subversive activities in Pakistan, and was holding two passports, for which India has no answer," he said.
Rejecting India's claim that Jadhav was abducted from Iran, he said, "Jadhav is a serving Indian naval officer. It's all rhetoric that he was captured in Iran. He has the right to file a review in the Supreme Court and also file a mercy petition to the Army Chief and the President in 40 days." 
Aziz also said that Indian statements on the issue could lead to diplomatic tensions. 
"We should respect each others' sovereignty," he said. 
India has said if Pakistan goes ahead with the hanging of Jadhav, it would amount to premeditated murder.
Earlier in the day, Indian High Commissioner in Islamabad Gautam Bambawale met Pakistan Foreign Secretary Tehmina Janjua and demanded a certified copy of the chargesheet as well as the judgement in the death sentence of Jadhav and sought consular access to him. 

"I have asked for a certified copy of the charge-sheet as well as the judgement in the death sentence of Kulbhushan Jadhav. They have denied our request for consular access 13 times (in the last one year). I have again requested the Pakistan Foreign Secretary to give access to Jadhav so that we can appeal," he said. 
Sources in New Delhi said apart from diplomatic options, India will also explore legal remedies permitted under Pakistan legal system including Jadhav's family appealing against the verdict. 
Pakistan's top military Generals yesterday decided not to make any "compromise" on the death sentence given to Jadhav. The decision was made at a Corps Commanders' conference presided over by Army Chief General Qamar Bajwa at the General Headquarters in Rawalpindi. 
The death sentence to Jadhav, 46, was confirmed by army chief General Bajwa after the Field General Court Martial found him guilty of "espionage and sabotage activities" in Pakistan.