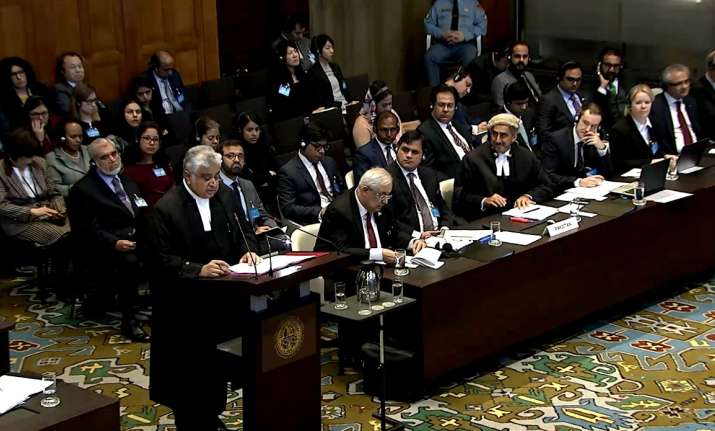 Amidst fresh Indo-Pak tensions, the public hearing in the Kulbhushan Jadhav case commenced today before the International Court of Justice (ICJ), the principal judicial organ of the United Nations, at the Peace Palace in The Hague. Jadhav, a retired Indian Navy officer, was sentenced to death by a Pakistani military court on charges of espionage and terrorism in April 2017. The hearings at the ICJ are taking place four days after one of the worst terror attacks in Jammu and Kashmir that killed 40 CRPF soldiers. 
Also read | Kulbhushan Jadhav case: International Court of Justice resumes hearing
Here are the Highlights from day 1 of the Kulbhushan Jadhav hearing in The Hague: (Time in IST)
05:25 pm: India seeks annulment of Kulbhushan Jadhav's capital punishment by Pakistan's Army court: Salve tells ICJ at the end of today's hearing. Indian counsel Salve has concluded his arguments. Pakistan will present its arguments tomorrow at 10 am (GMT+1)
05:25 pm: "India submits that military courts of Pakistan cannot command the confidence of this court and should not be sanctify by a direction to them to review and reconsider the case. India seeks annulment of Jadhav's conviction and directions that he be released forthwith."
05:10 pm: Pakistan has knowingly and willingly violated Article 36 of the Vienna Convention, consequences must follow: Salve at ICJ
05:00 pm: Pakistan's conduct does not inspire confidence that Jadhav can get justice there. Pakistan has in custody an Indian national who has been publicly portrayed to be a terrorist and Indian agent creating unrest in Balochistan. Pakistan has been using Jadhav to build a narrative against India: Salve
04:50 pm: Salve demolishes Pak military court at ICJ, says while the genesis of India and Pakistan's Army act - the English law - is same but we have never amended it to allow the military court to persecute civilians. 
04:45 pm: If Article 36 on Vienna Convention grants rights of consular access in all cases including where allegations of such kind are leveled, then demanding those can't be an abuse of those rights, Salve argues at ICJ. 
04:42 pm: Indian counsel at ICJ Harish Salve dismisses Pakistan's arguments filed earlier as rhetoric, hopeless and disrespectful to the court. "Arguments do not deserve evaluation," Salve tells the court. The Indian counsel said that Pakistan's act of playing doctored video at the hearing was an abuse of the court. 
04:30 pm: India and Pakstan's lawyers at ICJ: India's case is being presented by ex-solicitor general Harish Salve, who specialises in constitutional, commercial and taxation law. He will be facing Pakistan's Khawar Qureshi, a British advocate, who has been hired due to his expertise in international court. Qureshi is a Queen's Counsel, a title awarded by the Queen of England to a Barrister in recognition of expertise in Legal Advice and Advocacy.
Also read | Meet expert lawyer Harish Salve, who is representing India in Kulbhushan Jadhav case at ICJ
04:20 pm: Jadhav's trial by military court hopelessly fails to satisfy even minimum standards of due process and should be declared "unlawful",  Salve tells ICJ
04:15 pm: The hearing resumes after a short break
04:00 pm: ICJ hearing adjourns for short break
03:55 pm: Clarifying on the bilateral treaties signed between India and Pakistan, Salve said that nothing in them goes against Article 36 of the Vienna Convention. "Bilateral treaties can only supplement Vienna Convention," Salve said.
03:50 pm: "Pakistan should have provided a substantial explanation for why it needed three months for providing consular access, upon which it could have claimed that it has complied with the treaty obligation. Even on the erroneous premise that para 4 applies, Pakistan has not complied treaty obligations," Salve said in ICJ. 
03:35 pm: Pakistan did not provide credible evidence and failed to disclose specific offences in the Jadhav case, says Salve at the ICJ.
03:25 pm: Pakistan offered to allow Jadhav's family to visit him, the terms were agreed and the meeting was held on 25th December, 2017. India was dismayed at the manner the meeting with Jadhav's family was conducted and wrote a letter on 27 December marking its protest: India's counsel in ICJ
03:15 pm: Pakistan embarrassed to disclose charges against Jadhav, Salve tells ICJ
03:10 pm: On 19th June, 2017, India responded to the request for assistance in the investigation and pointed that not only Jadhav had been denied consular access but no credible evidence have been provided by Pakistan to show his involvement in any act of terrorism. And his (Jadhav's) purported confession clearly appears to be coaxed. India reminded Pakistan that it's Pakistan government which hasn't ratified SAARC convention on legal assistance in criminal matters: Harish Salve in ICJ
03:07 pm: On 30th March 2016, India reminded Pakistan of its request of consular access (for Jadhav) and received no reply. Thirteen reminders were sent by India on various dates: Salve
03:05 pm: There is no manner of doubt that Pakistan was using this as a propaganda tool. Pakistan was bound to grant consular access without delay: Salve on India's behalf
Also read | Pak army spokesperson takes jibe at Kulbhushan Jadhav in off-colour tweet
03:00 pm: "Jadhav's continued custody without consular access should be declared unlawful."
#WATCH: Harish Salve representing India & Kulbhushan Jadhav in ICJ says, "Jadhav's continued custody without consular access should be declared unlawful." pic.twitter.com/aAGeEAEGrT

— ANI (@ANI) February 18, 2019
02:56 pm: Harish Salve representing India & Kulbhushan Jadhav in ICJ: It is an egregious violation of the Vienna Convention
02:55 pm: Ex-solicitor general Harish Salve Salve says only 2 broad issues in Jadhav case. First issue relates to the construction of Article 36 of the Vienna Convention. The second issue relates to relief. Restitutio in integrum is a basic principle, Salve said.
Jadhav was apprehended on March 3, 2016 after illegally crossing into Pakistan from Iran, according to Pakistani officials. Indian officials say he was abducted from Iran and taken to Pakistan against his will.
India first approached the ICJ on May 8, 2017 for the "egregious violation" of the provisions of the Vienna Convention on Consular Relations, 1963 by Pakistan by repeatedly denying it consular access to Jadhav.
A 10-member bench of the ICJ, which was set up after World War II to resolve international disputes, on May 18, 2017 had restrained Pakistan from executing Jadhav till adjudication of the case.
The ICJ has set a timetable for the public hearing in the high-profile case from February 18 to 21, 2019, in The Hague.
Ministry of External Affairs spokesperson Raveesh Kumar declined to go into the details of it.
"The oral proceedings on the International Court of Justice are commencing on February 18. India will present its case before the court. Since the matter is sub judice, it is not appropriate for me to state our position in public. Whatever we have to do, we will do in the court," he said in response to a question.
The ICJ will hold public hearings in the Jadhav case from Monday to Thursday, according to the ICJ website.
However, India maintains that Jadhav was kidnapped from Iran where he had business interests after retiring from the Navy.
Watch TV coverage