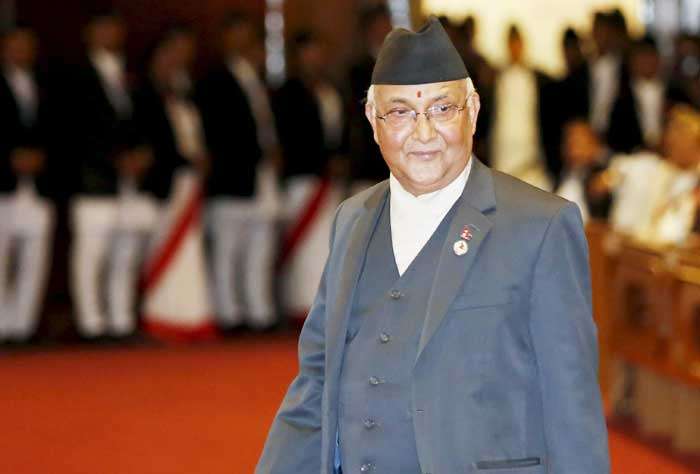 With defeat standing just steps ahead of him, the Prime Minister of Nepal, KP Oli, today announced his resignation from the post without facing the no-confidence motion vote.
Oli's 9-month-old government reduced to a minority after two key ruling alliance partners decided to support the no-confidence motion against him.
Nineteen parties in the Parliament already confirmed to the Nepal Congress and CPN (Maoist Center) that they will be voting in favour of the no-confidence motion.
Earlier in the day, the meeting of Cabinet decided to recommend President Bidya Devi Bhandari to use the power to remove difficulties as per the Article 305 of Constitution of Nepal in order to pave the way for the formation of new government after Oli resigns.
The recommendation has paved the way to form a new government. The directive should be endorsed by the Parliament.
Nepali Congress (NC) and the Maoists tabled the no-trust motion against Oli, accusing him of not honouring his past commitments. They have been demanding that Oli should resign to clear the way for formation of a new government.
Oli, who became Prime Minister last October heading Nepal's eighth government in the past 10 years, has been facing a no-trust motion after the Maoists withdrew support from the coalition government last week.
The no-trust motion in the 598-member Constituent Assembly was backed by 183 NC parliamentarians, 70 from CPN-MC and three from CPN-United. The three parties have a combined  strength of 292 in Parliament.
Oli's Communist Party of Nepal (Unified Marxist Leninist) currently has 175 elected seats in parliament, far fewer than the 299 needed to win a vote of confidence.
The six Madhesi parties, whose combined strength is 50, have also announced to support the no-trust motion.
Two key ruling alliance partners, Madhesi People's Rights Forum-Democratic and Rastriya Prajatantra Party also decided to vote in support of the no-confidence vote.
(With PTI inputs)