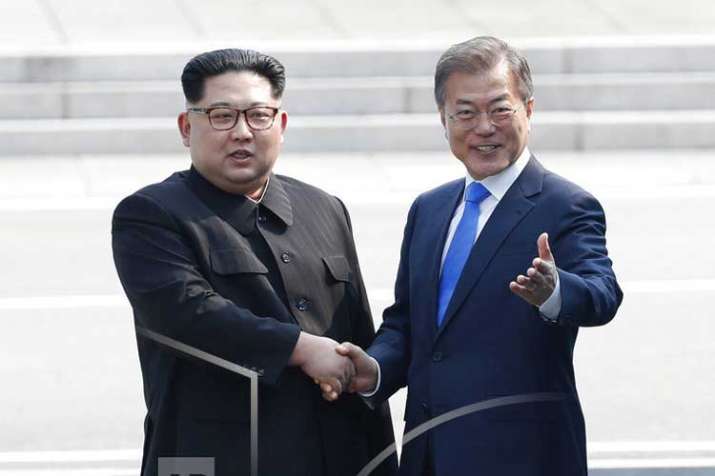 North Korean leader Kim Jong Un on Friday made history by crossing over the world's most heavily armed border to greet his rival South Korean President Moon Jae-in for talks on North Korea's nuclear weapons. 
It's the first time a member of the ruling Kim dynasty has crossed over to the southern side of the Demilitarized Zone since the Korean War ended in 1953.
The two leaders were seen shaking hands and smiling broadly at the beginning of their historic talks. 
Moon had awaited Kim's arrival at "Freedom House," a building on the southern side of the Demilitarized Zone. As soon as he saw Kim come out, he walked to meet him at the border so that their handshake would be at the most symbolic of locations, each leader standing on his side of the military demarcation line that separates North from South.
Surrounded by bodyguards and other members of his delegation, North Korean leader Kim Jong Un emerged right on cue from a large building on the northern side of the border in the truce village of Panmunjom, walked down a wide flight of stairs and strolled confidently toward South Korean President Moon Jae-in to begin the historic meeting.
Smiling broadly and exchanging greetings, the two shook hands for a long time, exchanging greetings and looking from outward appearances like old friends.
The high-stakes summit with North Korean leader Kim Jong Un will kick off a new round of nuclear negotiations with Pyongyang.
Meanwhile, supporters of the historic summit waved white South Korean flags and raised banners with messages including "Please Achieve Successful Denuclearization."
Interestingly, the handshake and all the atmospherics around it were carefully orchestrated and agreed upon in advance. North and South Korean officials conducted three days of on-site rehearsals to map out virtually every move of the leaders' initial encounter.
It was the second big North-South handshake in as many months — coming after Moon and Kim's younger sister, Kim Yo Jong, who accompanied him on Friday, shook hands at the opening ceremony of the Pyeongchang Winter Olympics in the South in February.
That seemingly impromptu moment came as a joint North-South team marched into the Olympic Stadium, part of an effort to use the Games to try to improve relations.
Moon, elated at the sight, turned and shook the hand of Kim's sister, who was seated right behind him in the VIP box on the first trip to the South ever by a member of the North's ruling family. The image of the two beaming with pride stood out all the more because U.S. Vice President Mike Pence, representing the White House, sat stone-faced nearby.
- With agency inputs