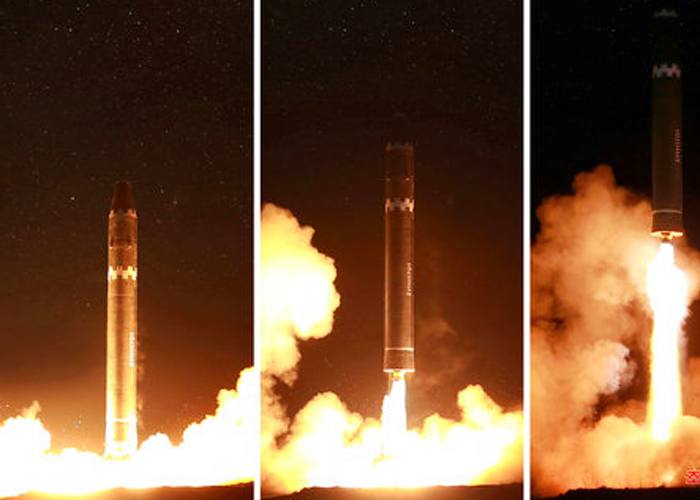 The North Korean government on Wednesday released photos showing the country's launch of intercontinental ballistic missile Hwasong-15, which Pyongyang claims is capable of re-entering Earth's atmosphere.
After two-and-a-half months of relative peace, North Korea early on Wednesday launched its most powerful weapon yet which flew about 960 kilometres, reaching an altitude of 4,500 kilometres. The missile landed in Japan's exclusive economic zone.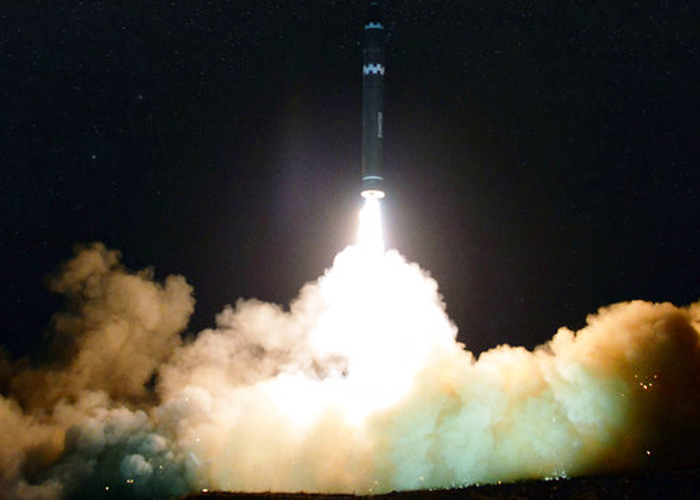 In some of the photos, North Korean dictator Kim Jong Un can also be seen inspecting the missile test which some observers believe could reach Washington and the entire US Eastern Seaboard.
State TV said Kim gave the order on Tuesday, and it broadcast a photo of Kim's signed order where he wrote: "Test launch is approved. Taking place at the daybreak of November 29! Fire with courage for the party and country!"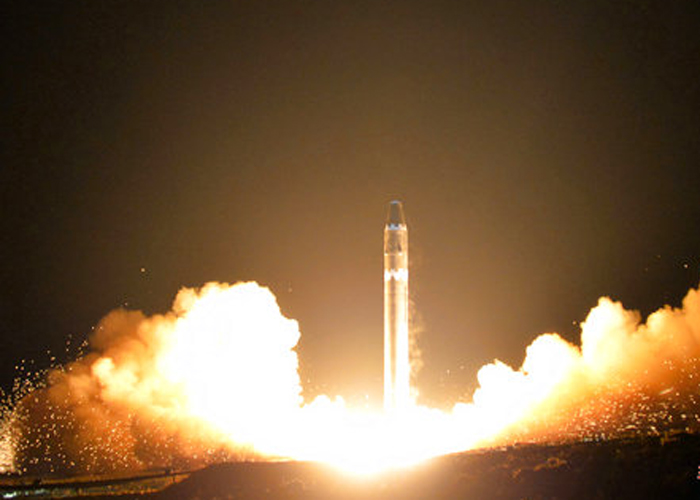 After the launch, in a government statement released through state media, North Korea said the Hwasong-15, the "greatest ICBM," could be armed with a "super-large heavy nuclear warhead" and is capable of striking the "whole mainland" of the US. The North said the missile reached a height of 4,475 kilometers (2,780 miles) and traveled 950 kilometers (590 miles) before accurately hitting a sea target, similar to the flight data announced by South Korea's military.
It even said leader Kim JoIndependent journalists were not given access to cover the event depicted in this image distributed by the North Korean government. The content of this image is as provided and cannot be independently verified. (Korean Central News Agency/Korea News Service via AP)ng Un "declared with pride" that his country has achieved its goal of becoming a "rocket power."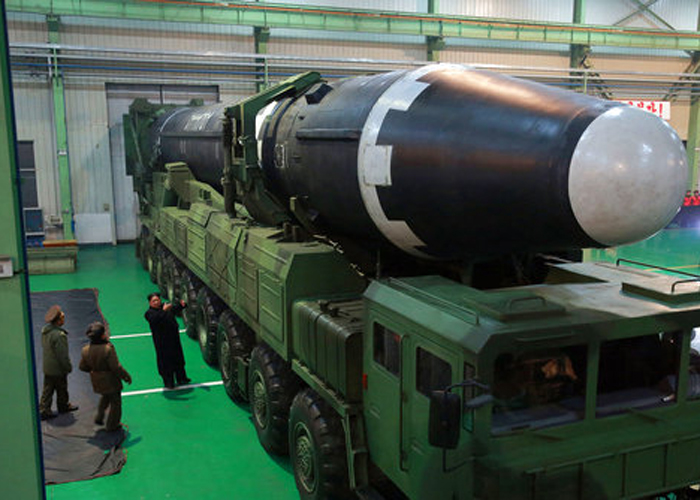 The missile also appeared an improvement on North Korea's past launches. If flown on a standard trajectory, instead of the lofted angle of the test flight, the missile would have a range of more than 13,000 kilometers (8,100 miles), said U.S. scientist David Wright, a physicist who closely tracks North Korea's missile and nuclear programs. "Such a missile would have more than enough range to reach Washington, D.C., and in fact any part of the continental United States," Wright wrote in a blog post for the Union for Concerned Scientists.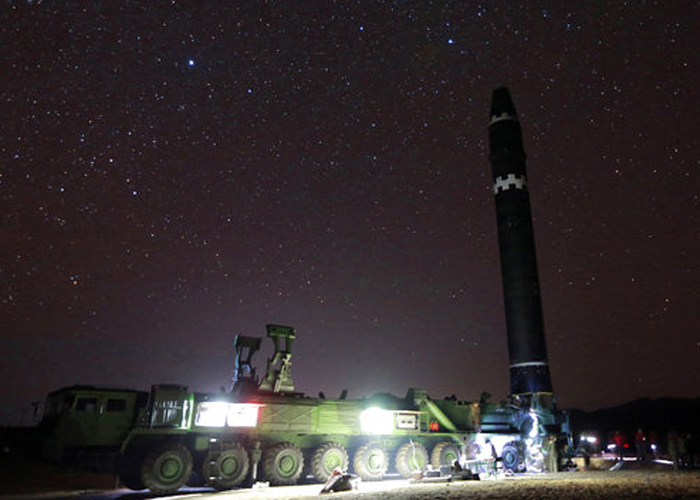 DONALD TRUMP CALLS KIM JONG UN A "LITTLE ROCKET MAN"
Speaking later on Wednesday, Trump could not resist taking a dig at North Korean dictator Kim Jong Un. Digressing during a speech in Missouri on tax reform, Trump called Kim "Little Rocket Man" and described him as "a sick puppy."
Reacting to the development, Nikki Haley, the US ambassador to the United Nations said that North Korea's launch of an intercontinental ballistic missile - which some observers believe could reach the Eastern US - "brings us closer" to a war the US isn't seeking.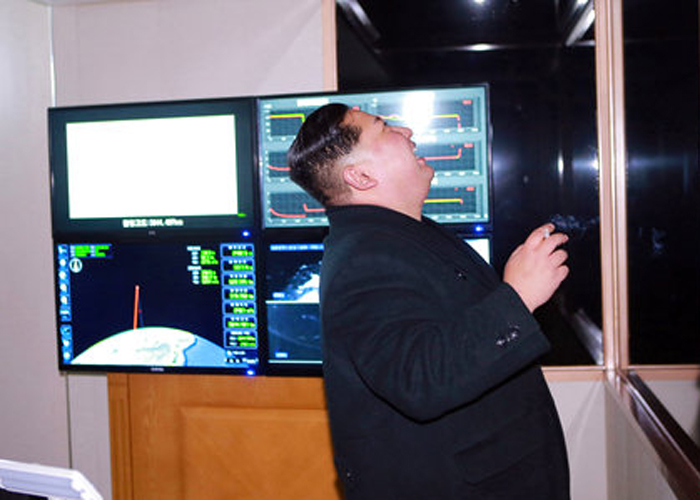 Haley, speaking at an emergency meeting of the UN Security Council, said that if war comes as a result of further acts of "aggression" like the latest launch, "make no mistake the North Korean regime will be utterly destroyed." "The dictator of North Korea made a decision on Wednesday that brings us closer to war, not farther from it," Haley said. "We have never sought war with North Korea and still today we do not seek it."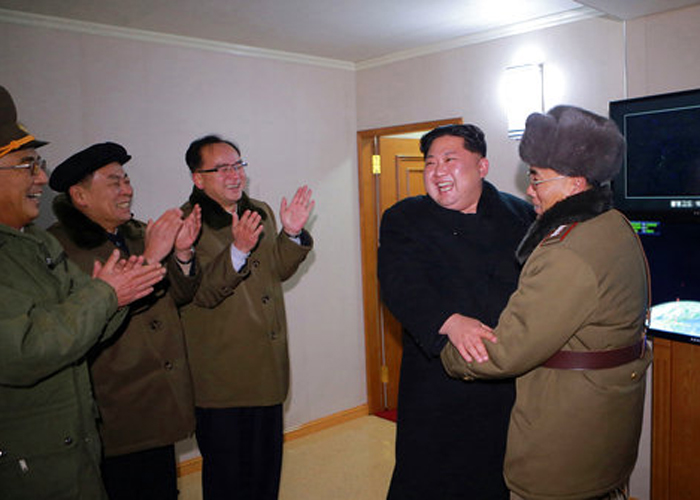 Meanwhile, the Trump administration has threatened new sanctions on Kim Jong Un's North Korea. US President Donald Trump tweeted that he spoke with Chinese President Xi Jinping about Pyongyang's "provocative actions," and he vowed that "additional major sanctions will be imposed on North Korea. This situation will be handled!" Trump's top diplomat, Rex Tillerson, said the US could target financial institutions doing business with the North.
At the emergency Security Council meeting, China's deputy UN ambassador Wu Haitao reiterated the China-Russia proposal for North Korea to suspend all nuclear and missile tests and for the US and South Korea to suspend all military exercises.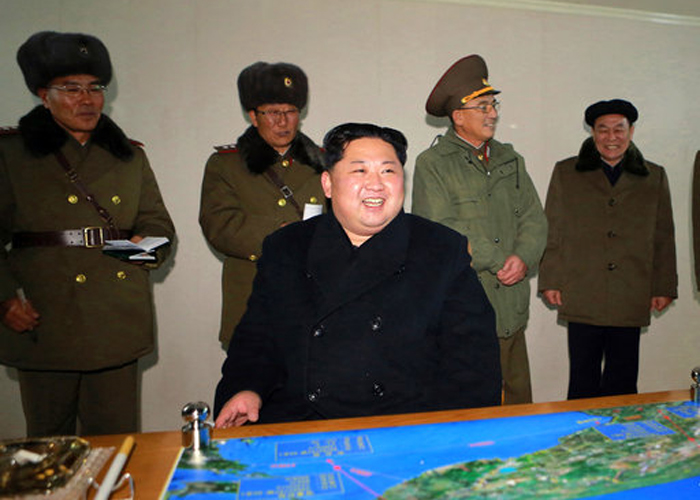 Russia's UN ambassador Vassily Nebenzia also urged North Korea to stop the tests and called on the US and South Korea to cancel large-scale military maneuvers scheduled for December.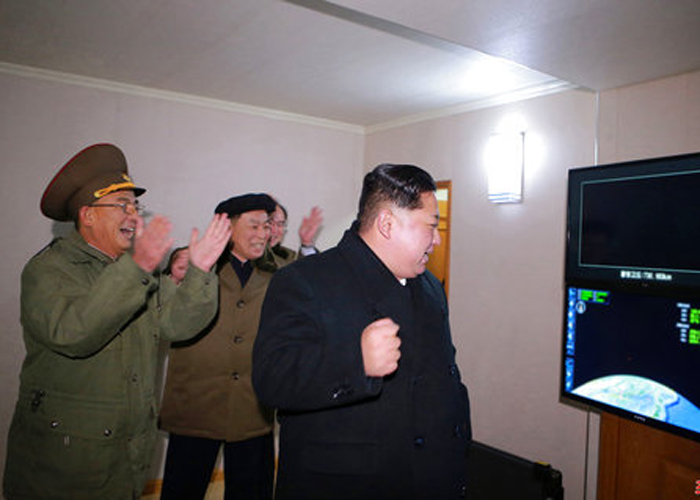 South Korean Joint Chiefs of Staff spokesman Roh Jae-cheon said the new missile Hwasong-15 was different from the previously tested Hwasong-14.
A rattled Seoul responded by almost immediately launching three of its own missiles in a show of force. South Korean President Moon Jae-in expressed worry that North Korea's missile threat could force the U.S. to attack the North before it masters a nuclear-tipped long-range missile.