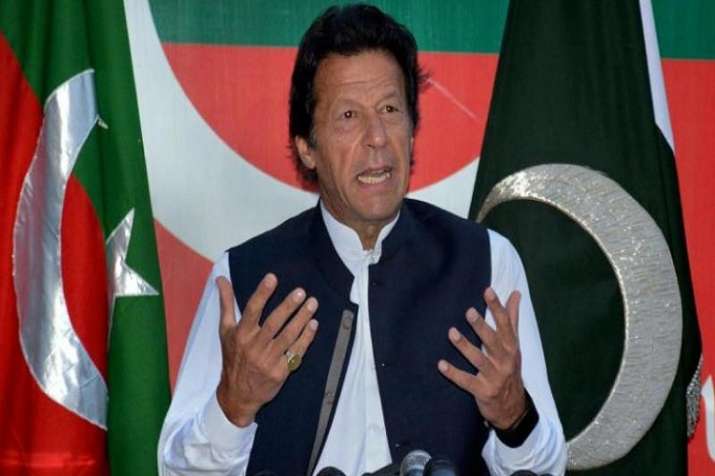 Pakistan Prime Minister Imran Khan on Monday rubbished his minister's 'googly' remark and said that the Kartarpur Corridor Inauguration was a straight-forward decision.
PM Imran Khan's statement comes nearly three days after Foreign Minister Shah Mehmood Qureshi stated that the prime minister bowled a 'googly' to ensure Indian government's presence at the groundbreaking ceremony of the landmark Kartarpur Corridor. Union ministers Harsimrat Kaur Badal and Hardeep Singh Puri along with Congress leader Navjot Singh Sidhu attended the event in Pakistan on November 28.
Qureshi's remarks drew sharp criticism from India with External Affairs Minister Sushma Swaraj saying his comments "exposed" him and that Pakistan has "no respect for Sikh sentiments".
Personally taking to Twitter, she commented, "Foreign Minister of Pakistan - Your 'googly' remarks in a dramatic manner has exposed none but YOU. This shows that you have no respect for Sikh sentiments. You only play 'googlies'."
Union Minister for Food Processing Harsimrat Kaur Badal on Sunday urged the Pakistani government to take action against the country's Foreign Minister for his remarks at the Kartarpur corridor last month, thereby disrespecting the sentiments of the Sikh community.
Asked to comment on the recent war of words between Qureshi and Swaraj, Prime Minister Khan said that Islamabad is sincere in establishing peaceful ties with New Delhi.
"The Kartarpur corridor opening was not a googly or a double game but a straightforward decision," Khan told Geo news.
Earlier on Sunday, Qureshi in his defence claimed that by dragging his 'googly' comments against the Sikh community was a deliberate attempt to 'misrepresent and mislead' by the Indian government.
Foreign Minister Qureshi on Sunday afternoon took to Twitter saying, "Dragging my comment towards "Sikh sentiments" is a deliberate attempt to misrepresent & mislead. What I said was strictly with ref to bilat.interaction with the Indian Govt. We have deep respect for Sikh sentiments & no amount of distortions or controversies would change it."
"In deference to the long-standing desires of our Sikh brethren, we have decided to open Kartarpur corridor. We have taken this historic initiative in good faith and will carry it forward in good faith," he added to his tweet thread.
The corridor will connect Sikh faith's founder Guru Nanak Dev's final resting place in Pakistan's Kartarpur to the Dera Baba Nanak shrine in Punjab's Gurdaspur district in India, fulfilling a long-pending demand of the Sikh community. The corridor is expected to be completed within six months.