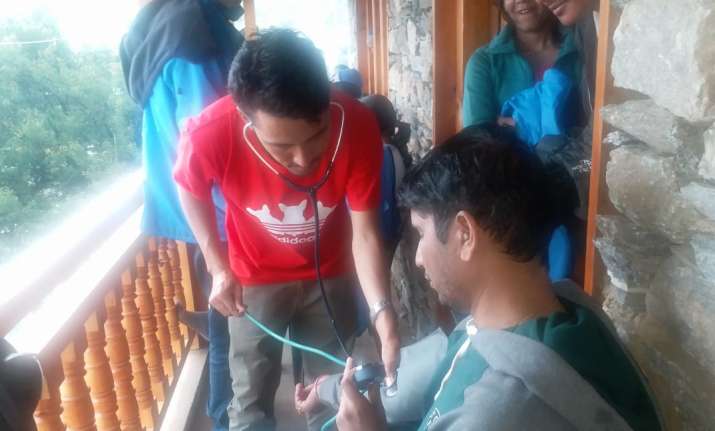 At least 1500 Indian pilgrims have been stranded along the route of Kailash Mansarover Yatra in Nepal after heavy rains caused landslips at several locations. There are about 525 pilgrims stranded in Simikot, 550 in Hilsa and another 500 more in Tibet side, an official statement by the Indian Embassy in Kathmandu said. 
The embassy said that the stranded pilgrims are being given proper medical attention and arrangements have been made to ensure the availablity of food and water. 
"The Indian Embassy in Kathmandu is continuously monitoring the situation and embassy's representatives in Nepalganj and Simikot are personally in touch with all stranded pilgrims and are extending all possible support to them for a stay, and ensuring availability of food/water," a statement said. 
As a preventive measure, the mission has asked all tour operators to try and hold pilgrims back in Tibet side as far as possible since medical and civic facilities on Nepal side are inadequate. 
Tour operators have been told to accord first priority in clearing up situation in Hilsa, most infrastructure lean place in the area. Mission is trying to press in services of Nepal Army choppers,which have superior abilities of operating in difficult terrain, it said. 
The embassy is looking into various alternative routes for evacuation, it added. However, immediate evacuation may not be feasible as of now due to inclement weather. 
Indian Embassy in Nepal has issued a  hot line for pilgrims and their family members: +977-9851107006,+977-9851155007,+977-9851107021, +977-9818832398. Hotline to contact language speaking staff: Kannada- +977-9823672371, Telugu- +977-9808082292, Tamil- +977-9808500642, Malayalam- +977-9808500644
Nepal: Indian Embassy in Nepal has pressed in service of a medical personnel to do check up & medical aid of 250 pilgrims stranded in Simikot. The pilgrims who were on pilgrimage to Kailash Mansarovar have been stranded in Simikot due to inclement weather condition in the area. pic.twitter.com/WYki5DZbeO

— ANI (@ANI) July 3, 2018
Tweeting about the the situation in Nepal, External Affairs Minister Sushma Swaraj said that the Government of Nepal has been requested to provide army helicopters to evacuate stranded Indian nationals. 
"In Simikot a health check up has been done on all the elderly pilgrims. They are being provided required medical help. In Hilsa we have requested police authorities for necessary assistance. We have requested Government of Nepal for army helicopters to evacuate stranded Indian nationals," the EAM said in a series of tweets.
The Indian Mission has also requested the local airlines operating on the route to ensure availability of extra aircrafts to have maximum possible sorties as soon as weather clears up. The Mission is also looking at the possibility of heli-evac for critical cases, the embassy said in a statement. 
The Kailash Manasarovar Yatra, which is being held between June 8 and September 8 this year, is organised by Ministry of External Affairs. The Yatra is organised on two routes - via Uttarakhand and via Sikkim.