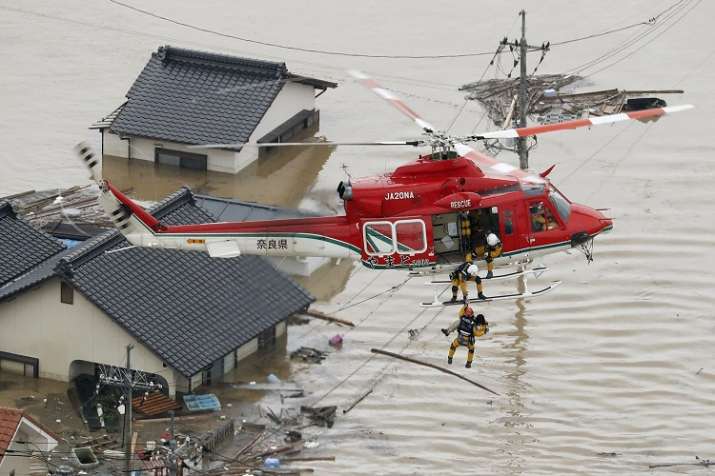 The death toll from the torrential rains that have battered Japan reached 200, as search and rescue missions continue to find dozens still missing in the wake of flooding and landslides. More than 70,000 personnel were involved in ongoing search and rescue missions for the 60 or more people still unaccounted for in the areas affected by the deluge.
These include the hardest-hit regions of Hiroshima, Okayama and Ehime prefectures. The Fire and Disaster Management Agency said, 6,700 people remained in emergency evacuation shelters on Thursday. As some of the shelters were without air-conditioning, the Health Ministry warned of heat-related illnesses.
 The weather agency said, day time temperatures could reach 35 degrees Celsius in the coming week. The ministry, specifically, warned about the possibility of food poisoning, as in the past people fell ill in such shelters after consuming food that had been left out in the heat for too long amid lack of refrigerators. 
Around 240,000 homes were cut off from water in western Japan and transportation systems were also severely disrupted. The Transport Ministry, West Japan Railway Co. and local operators of the 27 lines in the affected areas, reported damage at over 100 locations and will be unable to restart services within the next few days.
Earlier in the day, Prime Minister Shinzo Abe visited an evacuation centre in the city of Kurashiki in Okayama prefecture, where more than 40 of the 200 confirmed victims died."We'll cut through all the bureaucracy to secure the goods people need for their lives, to improve life in the evacuation centres — such as air-conditioners as the hot days continue — and then secure temporary housing and the other things people need to rebuild their lives," Abe said.
The United Nations said secretary-general Antonio Guterres had written to Mr Abe offering UN support in the clean-up.
UN spokesman Stephane Dujarric said Mr Guterres expressed his condolences for the loss of life and destruction.
He said the UN chief "commended the Government's efforts to help people affected and expressed his admiration for the domestic search and rescue teams helping those in need".