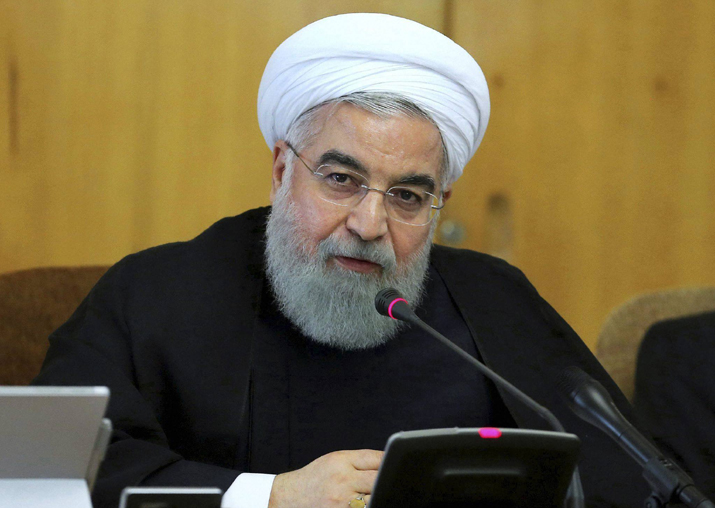 Iran today warned of a tough response if President Donald Trump presses ahead with his threats to scuttle the landmark 2015 nuclear deal. 
Foreign Minister Mohammad Javad Zarif told lawmakers during a closed session of parliament that Iran "will never renegotiate" the deal brokered with the US and five other world powers, the semi-official Fars news agency reported. 
The nuclear agreement required Iran to curb its nuclear program in exchange for the lifting of international sanctions. The state-run IRNA news agency quoted Zarif as saying Iran will offer a "tougher response" if the U.S. breaks the agreement. 
Trump is expected to decline this week to certify Iran's compliance and refer the matter to Congress. He also is expected to target Iran's paramilitary Revolutionary Guard with new sanctions. 
On Tuesday, the State Department offered USD 12 million for information leading to the location, arrest or conviction of two senior leaders of Hezbollah, the Iranian-backed Lebanese militant group. 
Iranian President Hassan Rouhani told a Cabinet meeting that Trump's speech will make clear "which is the rebellious government, and which is the side that violates international rules." 
If the US backs out of the nuclear deal, "it won't be our failure at all, but a failure for the other side," Rouhani said, according to state TV. He added that any effort to target the Revolutionary Guard would be a "double mistake." 
Trump, who has called the nuclear agreement the "worst deal ever," must recertify the measure by Oct. 15 because of unilateral conditions set by Congress. 
British Prime Minister Theresa May meanwhile urged the United States to extend the nuclear deal, saying it is "vitally important for regional security." 
May's office said she and Trump spoke late Tuesday and both sides agreed their teams would remain in contact ahead of Trump's decision on the pact. 
The British government said today that Foreign Secretary Boris Johnson had called Secretary of State Rex Tillerson to underscore British support for the deal. 
Johnson said the agreement "was the culmination of 13 years of painstaking diplomacy and has increased security, both in the region and in the UK. It is these security implications that we continue to encourage the U.S. to consider." 
The Foreign Office said Johnson also spoke to Zarif and will meet Ali Akhbar Salehi, Iran's vice president and head of its nuclear agency, in London today. 
China, France, Russia, Germany, Britain and the European Union all ratified the deal.