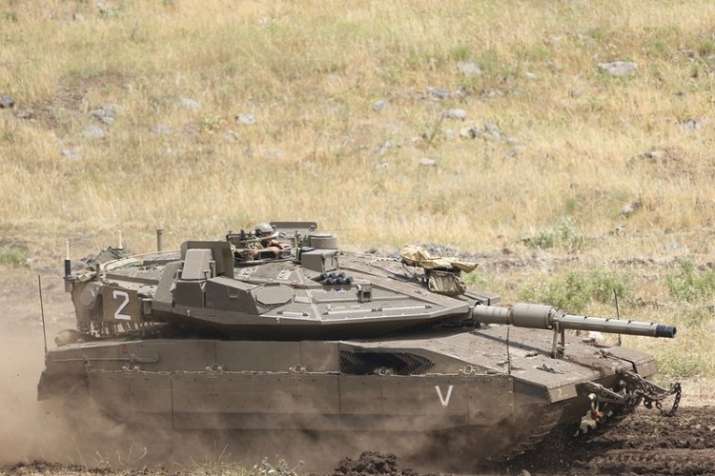 A day after Israel carried out air strikes on the Iranian targets in Syria, the international community including the United Nations, Russia, France, Germany and the United Kingdom have urged Israel and Iran to avoid any further escalation.
UN Secretary-General Antonio Guterres appealed for an 'immediate halt to all hostile acts'.
He urged the UN Security Council to remain actively aware of the situation and shoulder its responsibilities under the UN Charter.
The European Union on Thursday called on all regional actors to show restraint to avoid any escalation.
Meanwhile, Russia has called for dialogue between Israel and Iran following the strikes. Addressing the media, Russian Foreign Minister Sergei Lavrov said, "This is a very disturbing trend. We proceed from the fact that all issues should be solved through dialogue".
Meanwhile, Israeli Prime Minister Benjamin Netanyahu on Thursday said that Iran had crossed a 'red line' by firing rockets at Israeli forces from Syria, leading to major Israeli air strikes on Thursday.
In a video posted on the social media, Netanyahu said, "Iran has crossed a red line. Our reaction was a consequence."
Iran, however, said that it does not want new tensions in the Middle East. In a telephonic call, Iranian President Hassan Rouhani told German Chancellor Angela Merkel, "Iran has always sought to reduce tensions in the region, trying to strengthen security and stability".
The United States also condemned Iran's provocative attack. In a statement, White House Press Secretary Sarah Sanders said that the deployment of Iran's offensive rocket and missile systems aimed at Israel is totally 'unacceptable' and highly dangerous for the entire Middle East.
Germany and Britain joined the United States in denouncing the rocket fire attack, they believed came from Iran, while France reiterated its unwavering support for Israel's security.
French President Emmanuel Macron and German Chancellor Angela Merkel have called for a de-escalation in the region following a meeting in the Aachen city of Germany on Thursday.
British Foreign Secretary Boris Johnson said that Iran must refrain from further actions that will only lead to further instability in the region. He urged the Russian government to press the Bashar-al-Assad led Syrian government to work for a broader political statement.
Meanwhile, in a rare move for an Arab country, Bahrain backed Israel's right to defend itself after the air strikes. Taking to Twitter, he wrote that so long as Iran uses its forces and missiles to try and destabilise the region, "it is the right of any country in the region, including Israel, to defend itself by destroying the sources of danger".
The reaction of Bahrain comes as a surprise as it is a close ally of Saudi Arabia and the two countries view Iran as the chief threat to the region.
Earlier on Thursday, in one the largest Israeli military operations in recent years, Israel's military said that it had carried out widespread raids against Iranian targets in Syria after Iran fired more than 20 rockets at its forces in the occupied region of Golan Heights.
The incident came after weeks of rising tensions between the two arch-nemesis and followed US President Donald Trump's decision to withdraw from a key 2015 Iran nuclear deal on Tuesday, a move Israel had long advocated.