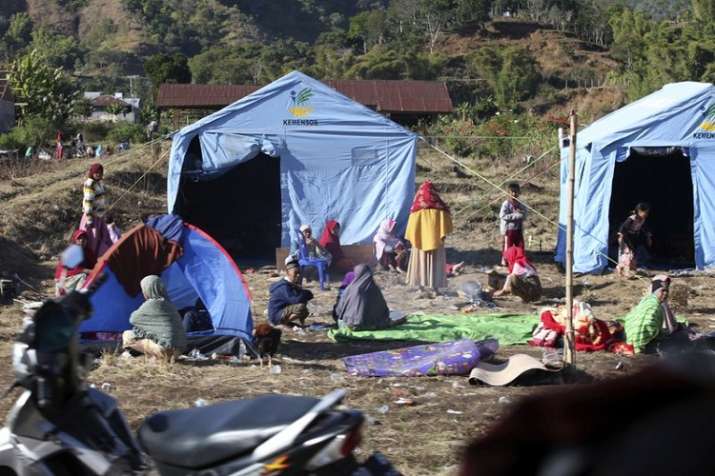 At least 98 people have been killed and more than 200 injured in a 7.0 magnitude earthquake that rocked Indonesian tourist island of Lombok on Sunday evening. 
National Disaster Mitigation Agency spokesman Sutopo Purwo Nugroho told a news conference that damage was "massive" in northern Lombok. In several districts, more than half the homes were destroyed or severely damaged.
Some areas still hadn't been reached, with rescuers battling against collapsed bridges, electricity blackouts and damaged roads blocked with debris. Lack of heavy equipment was hampering attempts to find victims beneath the rubble of a mosque that collapsed in northern Lombok while villagers prayed inside, Nugroho said.
An operation was also under way Monday to evacuate some 1,200 tourists from the Gili Islands, three tiny, coral-fringed tropical islands a few kilometres off the northwest coast of Lombok that are particularly popular with backpackers and divers. Local disaster officials said 358 tourists had been evacuated so far.
The quake triggered a tsunami warning and frightened people poured out of their homes to move to higher ground, particularly in North Lombok and Mataram, the capital of West Nusa Tenggara province. The warning was lifted on Sunday after only small waves were recorded.
Indonesia is prone to earthquakes because of its location on the Pacific "Ring of Fire," an arc of volcanoes and fault lines in the Pacific Basin. In December 2004, a massive magnitude 9.1 earthquake off Sumatra island triggered a tsunami that killed 230,000 people in a dozen countries.
The Bali and Lombok airports continued operating Sunday night, according to the director general of civil aviation. There had been a half-hour evacuation at the Lombok airport following the quake because the electricity went off.