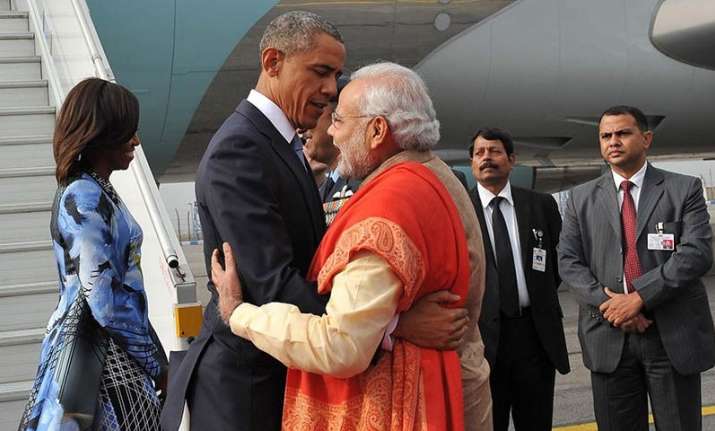 The India-US relationship is one of the great success stories of the Barack Obama administration, during whose term the ties between two countries witnessed an unprecedented level of cooperation for mutual benefit, a top White House official has said.
"This (India-US relationship) is really one of the great success stories of the Obama Administration," Peter Lavoy, Senior Director for South Asian Affairs at the National Security Council, White House, told PTI in an interview.
Deepening and expansion of partnership with India on a whole host of issues are of critical importance to the US, the top presidential advisor said.
Lavoy, who has been working on South Asian issues, in particular on India-Pakistan issues for past several decades in various capacities in the US government, exuded confidence that the relationship would continue to strengthen further given the bipartisan support it has in both the countries.
"When you talk about expectations for the future, I think, all the signals point to this continued trajectory - deepening and expanding partnership," he said.
Outgoing President Barack Obama inherited what essentially was a bipartisan issue towards India, he added.
"I think, this is how we are handing off the relationship from President Obama to his successor. It is very much a bipartisan issue. So I think, on both sides of the aisle in the US there is a very strong appreciation of not only the benefits but also the imperatives of partnerships with India for the continuation in our interest," he asserted in response to a question.
"My expectation is that it will continue, because it is in India's interest and it is in US' interest. Republicans and Democrats alike recognise the importance of continuing (this relationship) and in fact deepening partnership with India. That's why I am very optimistic of the future," he said, as he refrained from giving a direct answer to a question on India-US relationship under a Trump Administration.
Referring to the visit of Prime Minister Narendra Modi to Washington, Lavoy recalled his speech to the Congress in June wherein he said India and the US have overcome hesitations of history and turned barriers into bridges and partnerships.
"I think, that's much more than rhetoric. I think that is very very genuine. During the past years and actually over the last eight years, we really expanded our co-operation in wide range of areas," he asserted.
"The partnership now covers every single area of significance to the US and I believe India," he said, adding Obama actually inherited a very strong relationship with India that is something that his predecessor George Bush prioritized.
"President Obama has taken it into an unprecedented level of co-operation for mutual benefit," Lavoy said.
When Obama came to office in 2009, he noted that there was still a very strong trust deficit between the leadership in Washington and the leadership in Delhi.
"What I have been very very pleased to see that the trust deficit has significantly diminished. Now the leaders of both countries, senior officials of both countries interact as familiar and trusted partners on a whole wide range of issues, whether it is cyber defense, terrorism, or any other issue," Lavoy said.
"It is something, I think here your leadership should be aware of because what happens in the internal meetings the level of trust and mutual appreciation that takes place in these meetings has been a very palpable change over the last eight years," the official said.
"A lot of the credit goes to the personalities, President Obama and Prime Minister Manmohan Singh before and more recently Modi. They had the vision, they had the recognition that the pursuit of both countries interests cannot be accommodated fully without the full contribution of the other country. And they managed to overcome the barriers of partnership, the suspicions, the skepticism and giving now giving the benefit of the doubt to the other one," Lavoy said.
"And today there is no issue of significance to the US, where we do not consider how we can cooperate with India. I suspect the same would be said by our counterparts in Delhi as well. This is a very significant change. As I said earlier, we fully suspect this kind of behavior, kind of orientation will continue for many many years to come to the benefit of both of our population," the White House official said.
Lavoy said the counter-terrorism cooperation between India and the US under the eight years of Obama Administration as "incredibly successful" and foiled several terror plots.
"I can tell you quite definitively that due to our partnerships, several terrorism plots were foiled. Indian lives and American lives were saved because of this partnership," he said.
(With PTI inputs)