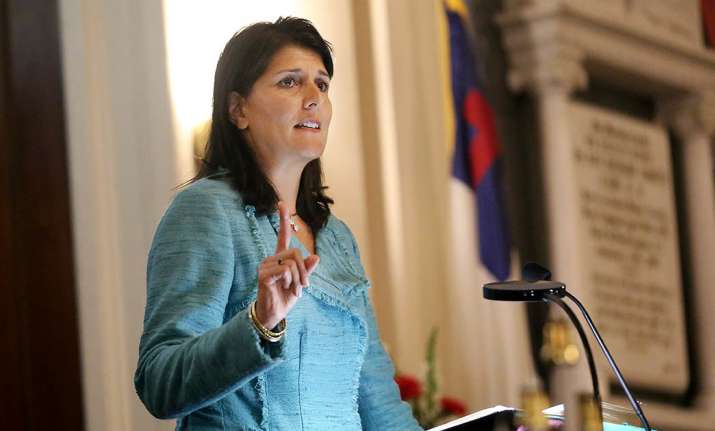 US President-elect Donald Trump has picked Governor of South Carolina state, Nikki Haley, to serve as envoy to the UN in the coming administration, US media reports citing sources close to the development, said today.
The planned decision marks Trump's first female appointment to a Cabinet-level post.
As per a report in the Washington Post, an official spoke on the condition of anonymity as the decision has not yet been announced by Trump's transition team.
Haley, 44, who is a daughter of Indian immigrants and is serving her second term, has worked on trade and labour issues as governor but has little diplomatic experience.
However, her stance on issues related to US military and national security align with the GOP's hawkish mainstream, the daily said.
President-elect Trump met Haley last week at Trump Tower in New York as part of the round of meetings for key administration posts.
Haley is expected to be paired with Mitt Romney, an ally and a leading candidate to become Secretary of State. The pair were critical of Trump's several stances during the 2016 campaign, which included a proposed temporary ban on Muslims entering the country.
The GOP administration is likely banking on Haley's strong communication and problem-solving skills, required for the US representative at the United Nations in New York.
If confirmed, Haley would be replaced by South Carolina's Lt Gov. Henry McMaster, who is a top Trump ally.
(With inputs from IANS)