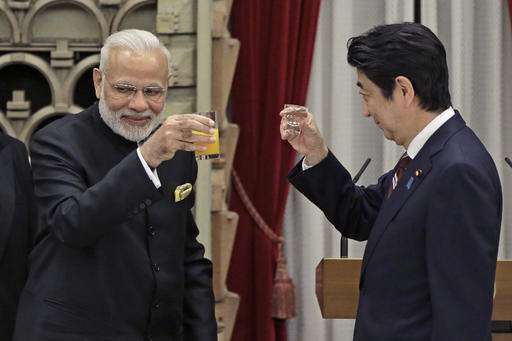 Despite differences between New Delhi and Beijing on many issues including India's NSG bid and terrorism, the Chinese media believes that  India will not become a pawn in the hands of  Japan which wants to contain China. 
An editorial in the state-run 'Global Times' says that Japanese Prime Minister Shinzo Abe is anxious after the leaders of Philippine, Malaysian and Vietnam visited China following which the once unstable situation in the South China Sea suddenly abated.

 

The editorial points out that another reason for Abe's anxiety is that Donald Trump, the President-elect of US, has threatened to abandon Japan. 
"The Asia-Pacific region is at crossroads. That has made Shinzo Abe anxious that Japan can no longer depend on the US for its purposes," the editorial said. 
The editorial further accuses Japan of trying to take advantage of the bilateral disputes between India and China in order to contain Beijing.

 

"Japan wants to use the disputes between China and India to court India to help contain China. Japan seeks to urge India to meddle in the South China Sea issue, even at the cost of changing its long-held position of reducing nuclear usage to offer special benefits of civil nuclear cooperation to India," it said.
The editorial, however, adds that India is not likely to change its position under Japan's influence.

 

" India is not likely to change its position according to the wishes of Japan. India takes a multilateral approach to diplomacy and pursues a status as a leading power. Japan's plans are full of antagonism, which contradict India's policies. Therefore India will practically assess specific cooperation with Japan case by case," it said.
"India will not become a pawn for Japan to contain China, as it wants to become a power on par with China and Japan and benefit from both sides. India will get closer to Japan but will not enter into a "brotherhood" relationship," it added.