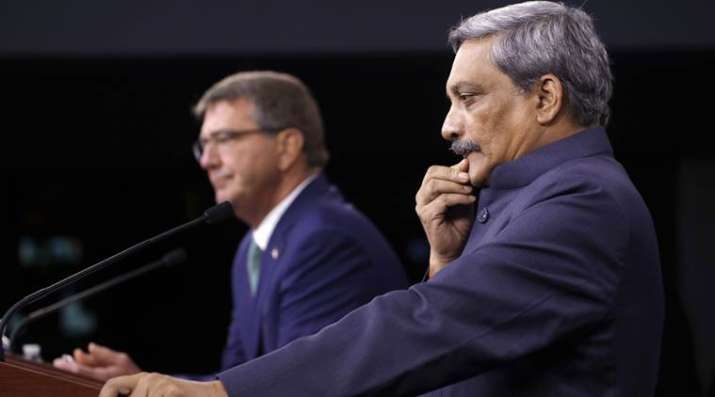 India and the US on Monday signed a historical agreement that will make the two nations logistical allies and enable both the militaries to use each other's assets and bases for repair and replenishment of supplies.
However, both Defence Minister Manohar Parrikar and US Defense Secretary Ashton Carter clarified that it will not involve setting up of military bases.
Notably, India has never allowed foreign powers to operate out of its military bases. It rejected 'bloc' mentality and treasured 'strategic autonomy'.
Welcoming the signing of the bilateral 'Logistics Exchange Memorandum of Agreement' (LEMOA), Parrikar and Carter said the pact will facilitate opportunities for "practical engagement and exchange".
LEMOA facilitates the provision of logistical support, supplies, and services between the US and Indian militaries on a reimbursable basis, and provides a framework to govern them.
"They agreed on the importance (that) this framework will provide to facilitate innovative and advanced opportunities in defence technology and trade cooperation. To this end, the US has agreed to elevate defence trade and technology sharing with India to a level commensurate with its closest allies and partners," said a joint statement after the pact was signed.
Parrikar also clarified the agreement will not involve in setting up bases.
"It does not have anything to do with setting up bases. It is for logistic support to each other... Like supply of fuel, supply of of any other things that are required for joint operation, humanitarian assistance and many other..." Parrikar said.
According to the statement, the defence ties between the two countries is based on their "shared values and interests," and their "abiding commitment to global peace and security."
During their meeting, Parrikar and Carter discussed the "wealth of progress" in bilateral cooperation and deepening strategic partnership between the United States and India.
The US has agreed to elevate defence trade and technology sharing with India to a level commensurate with its closest allies and partners.
The visit - their sixth official interaction to date - demonstrates the importance both sides place on strengthening defence ties across many areas: from strategic and regional cooperation, to deepened military-to-military exchanges, to expanded collaboration on defence technology and innovation, it said.
Welcoming India's membership in the Missile Technology Control Regime (MTCR), Carter reaffirmed US support for India's membership in the Nuclear Suppliers Group (NSG).
Acknowledging India's positive contributions to regional security and stability, including in matters beyond the maritime space, Carter and Parrikar announced their agreement to further consultations in the area, including through the next Maritime Security Dialogue, scheduled later this year.