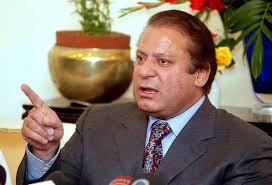 Taking strong exception to India's statement on JuD chief Hafiz Saeed's house-arrest, Pakistan today asked New Delhi to look towards itself before pointing fingers at others on such issues.

 

On Wednesday, India had said that Pakistan had carried out exercises such as house-arrest order against Hafiz saeed in the past as well but added that "only a credible crackdown on the mastermind of the Mumbai attacks would be proof of Pakistan's sincerity."
Reacting to India's reaction, Pakistan's Foreign Office (FO) Spokesman Nafees Zakaria today said: "India should look towards itself before it points fingers towards others."
"Pakistan has conducted operations against terrorist elements without discrimination," he added.
Zakaria further alleged that India was involved in terrorist operations in Pakistan and that there is "solid proof" that Indian state actors and institutions are involved in terrorist activities in Pakistan.
"The interference of Indian state institutions in Pakistan's internal matters has been made apparent before the world," Zakaria said.