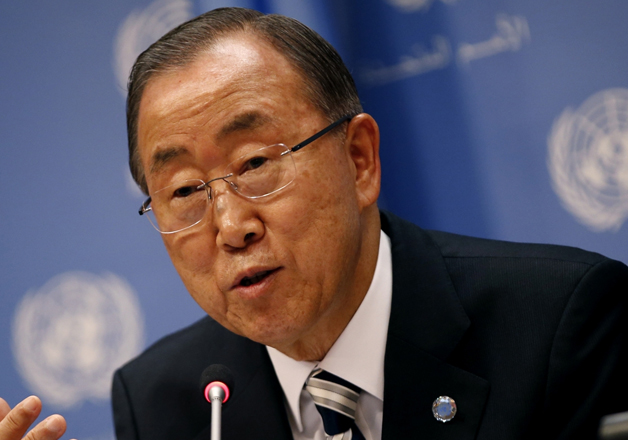 United Nation today reiterated that India and Pakistan should resolve their differences through dialogue. 
Underlining the need for having dialogues, UN Secretary General Ban Ki-moon' spokesperson Stephane Dujarric stressed that the world body is aware of the situation in Kashmir and refused to comment on comparisons between Valley and the situation in war-torn Syria.
Dujarric was repeatedly asked by a Pakistani reporter whether the UN chief will talk to the leaders of India and Pakistan and offer his good offices during the current atmosphere of escalating tensions and with "Pakistan and India are now getting ready to go to war."
The journalist also drew a comparison between the situation in Kashmir with that in war-torn Syria.
"Without commenting on the comparison you make, obviously, I think you've seen what we've already said on the situation in Kashmir. I have nothing to add to what we've already said and what already stands," he said.
"Our position on good offices and the current situation remains the same, and I would refer you to what we've been saying the last couple of weeks," he added.
On head of UN Human Rights Commission Zeid Ra'ad Al-Hussein asking India and Pakistan to allow his team to visit the region and whether Ban will ask the two nations to "ratchet down the war rhetoric", Dujarric said "in a recent statement, I think we've stated clearly our position on the situation between those two countries."
Ban's office has repeatedly said that the UN Chief's "good offices" are available on helping resolve the Kashmir dispute only if both India and Pakistan request for it, a clear message that the Kashmir issue is a bilateral one between the two nations and should be solved by them only.
The UN chief had condemned the militant attack in Uri and expressed hope that the "perpetrators of this crime will be identified and brought to justice".
"The United Nations is following developments closely and shares the concerns of people living in the region for peace," Ban's spokesperson had said in a statement, adding that Ban hoped that all involved will prioritize the re-establishment of stability and prevent any further loss of life.
The statement had said the Secretary-General encouraged all stakeholders to meet their respective responsibilities to maintain peace and stability. 
With PTI Inputs