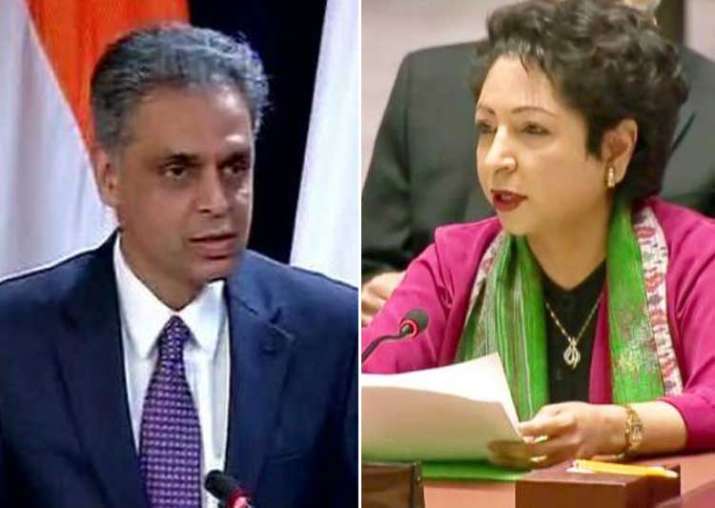 Slamming Pakistan for unleashing terrorist attacks on its neighbours, India on Friday told the Security Council that Islamabad must change its "mindset" of differentiating between 'good' and 'bad' terrorists.
Addressing a high-level Council meeting dealing with Afghanistan, India's Permanent Representative Syed Akbaruddin said that only by changing the terror mindset can peace come to Afghanistan.
"Terrorism and externally induced instability pose the gravest threat to Afghanistan's peace, stability and prosperity," he said. "And the growing arc of terrorist violence endangers our entire region."
New Delhi has been working with regional and international partners to bring security, peace and development to Afghanistan, he said. 
To further these objectives and promote peace, Prime Minister Narendra Modi stopped over in Lahore in December 2015 on his way back from inaugurating the Indian-built parliament house in Afghanistan, he added.
But "a heinous and barbaric terrorist attack" was launched on the Pathankot airbase in a week's time by "the very same mindsets which attack the spirit of Afghanistan every day," he said.
"These mindsets differentiate between 'good' and 'bad' terrorists," he said. "These mindsets refuse to see reason in peace. They are mindsets that are reluctant to join hands in moving the region forward to build a shared future for our people and our youth."
"These mindsets," Akbaruddin declared, "need to change."
Responding to India's charges, Pakistan raised the case of Kulbhushan Jadhav, whom Islamabad has accused of being an Indian spy and given him a death sentence.
Without taking the name of Kulbhushan Jadhav, Pakistan's Permanent Representative Maleeha Lodhi said "Those who speak of changing mindsets (about terrorism) need to look within and their own record of subversion against my country as our capture of an Indian spy has amply demonstrated and proved beyond any shadow of doubt."
India has denied that Jadhav, a retired navy officer, worked for the government and said that he was abducted by Pakistan from Iran to stage a show-trial.
Denying that Pakistan was giving terrorists a safe haven or support, Lodhi also took a swipe at the US saying it needed a "reality check." The administration of President Donald Trump suspended security aid to Pakistan this month citing its provision of sanctuaries and assistance to terrorists attacking Afghanistan.
The high-level Council meeting was presided over by Kazakhstan's Foreign Minister Kairat Abdrakhmanov and focused on regional cooperation to promote development and security in Afghanistan. Russia's Foreign Minister Sergei Lavrov was among those attending the session.
Terrorism has taken a huge toll on Afghanistan, Akbaruddin said backing up his assertion with World Bank statistics.
Afghanistan recorded a 9.6 per cent annual economic growth rate from 2003 to 2014, but it has fallen to 2.2 per cent in 2016 as terrorism increased and it was 2.6 per cent last year, according to the bank.
Illustrating how terrorism impacts development, he said that a disproportionate amount of resources are diverted from the aid projects to protecting them rather than building more projects.
The New Development Partnership between India and Afghanistan cover education, health, agriculture, infrastructure, renewable energy, drinking water supply and human resource development, he said.
The recent visits by Afghanistan's President Ashraf Ghani and Chief Executive Dr. Abdullah Abdullah have given the partnership a boost, he added.
India pledged a $1 billion package for Afghanistan last year.