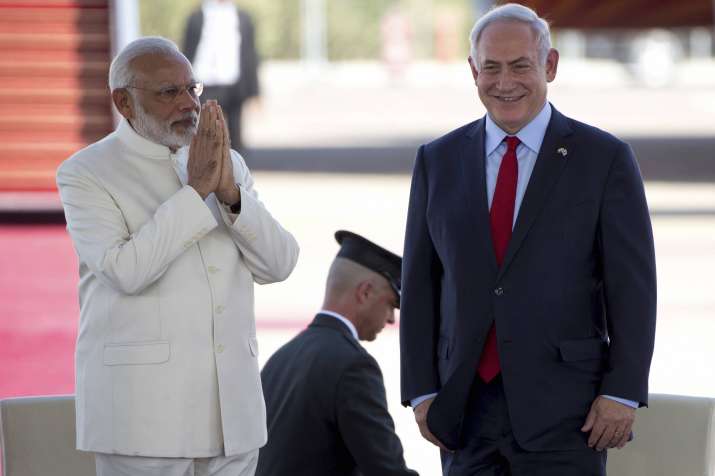 After a grand welcome at Israel's Ben Gurion Airport, Prime Minister Narendra Modi recalled that his visit, first by any Indian Prime Minister, coincided with  the anniversary of 'Operation Entebbe' in 1976, a rescue operation carried out by Israel Defense Forces to rescue hostages taken by Palestinian militants in Uganda. In the operation, Modi noted, Israel PM Benjamin Netanyahu's brother Yonatan "Yoni" Netanyahu, who was leading the commandos, lost his life. 
"Today is July 4. Exactly 41 years since Operation Entebbe, today when your prime minister and my friend Bibi lost his elder brother Yoni while saving the lives of so many Israeli hostages," Modi said. "Your heroes are an inspiration for the younger generations," he added.
Here are some facts about Operation Entebbe: 
1. On June 27, 1976, an Air France plane with 248 passengers was hijacked by two members of the Popular Front for the Liberation of Palestine – External Operations (PFLP-EO), a Palestinian militant group and two members of the German Revolutionary Cells. 
2. The plane was carried to Entebbe airport in Uganda which was then ruled by dictator Idi Amin. Ugandan supported the hijackers and Idi Amin personally welcomed them. 
3. 94 Israeli passengers and 12 crew members were kept as hostages while others were set free. 
4. Acting on Israeli intelligence agency Mossad's inputs, Israel Defense Forces (IDF) carried out rescue operation in middle of the night on 4 July 1976.
5. 100 commandos of elite Sayeret Matkal unit were flown in by Israeli transport planes into Uganda, over 4,000 km from Israel, for the operation.
6. In the operation, three hostages and the Israeli officer commanding the assault force were killed. 
7. Officer Yonatan Netanyahu, 30, was the only casualty of Israel forces. Yonatan's brother Benjamin is the current Prime Minister of Israel. 
8. All the hijackers and forty-five Ugandan soldiers were killed. Israeli forces also destroyed 35 Soviet-built MiG-17s and MiG-21s of the Ugandan air force.
9. Operation Entebbe is considered one of the most successful and lethal operations and is taught in military schools around the world. 
10. As Uganda's neighbour Kenya supported the Israeli operation, diplomatic relations between Nairobi and Uganda were strained in the aftermath of the incident.