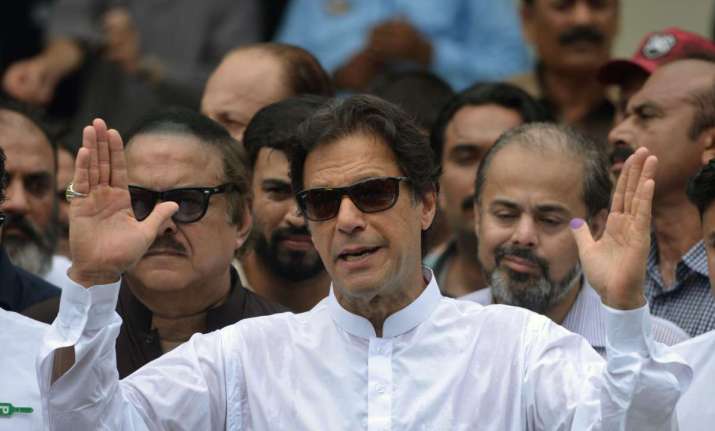 Pakistan Tehreek-e-Insaf (PTI) Chairman Imran Khan has said that he will take oath as Prime Minister on August 11, the media reported on Monday.
Talking to the newly-elected members from Khyber Pakhtunkhwa province in Islamabad, he said a decision regarding nomination of the Chief Minister will be taken soon and in the best interest of the people, according to Radio Pakistan.
"I have also decided about chief minister of Khyber Pakhtunkhwa which I will announce in the next 48 hours. Whatever I have decided in this regard is in the best interest of people," he said while addressing PTI members of the provincial assembly in Khyber Pakhtunkhwa province. He said that alleviation of poverty from interior Sindh will be among top priorities of his government.
Although PTI has emerged as the single largest party in the National Assembly in the July 25 polls, it is short of numbers to form its government independently. 
According to the results, the PTI has bagged 116 general seats — 22 short of a simple majority — whereas the PML-N and PPP have won 64 and 43 seats, respectively. The PTI is short of the 137 needed for a simple majority and is trying to woo independents to join the party.
To meet the required number of votes, the PTI leadership has reportedly approached the Muttahida Qaumi Movement-Pakistan (MQM-P), the Grand Democratic Alliance (GDA), PML-Quaid (PML-Q) and the Balochistan Awami Party (BAP), as well as Independents.
Meanwhile, former Prime Minister Nawaz Sharif's Pakistan Muslim League-Nawaz and Bilawal Bhutto-led Pakistan Peoples Party agreed on formulation of a "coordinated joint strategy" in an attempt to give a tough time to PTI in Parliament.
Earlier on Sunday, PTI spokesman Naeemul Haque on Saturday told reporters that party chief Khan will take oath as the Prime Minister before August 14, the country's Indepence Day.  He said that he hoped the president would call an assembly session and Khan would take oath as premier before the Independence Day.