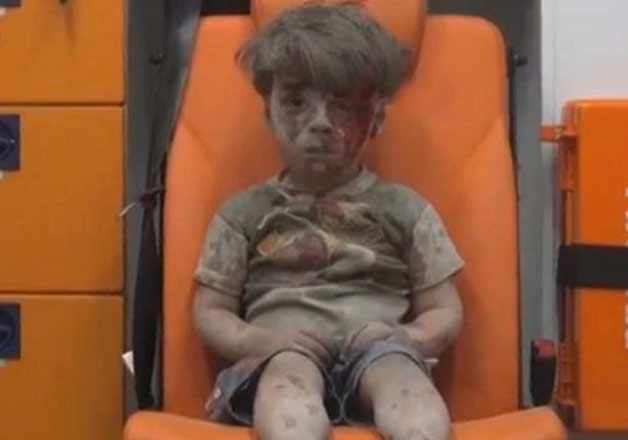 Horrors of Syrian war  has come to shock the world as a disturbing image of a dazed and bloodied five year old boy who was rescued from the rubble of a building hit by air strikes in Syrian city of Aleppo is doing rounds on internet.
In the video posted late Wednesday by the Aleppo Media Centre, a man is seen plucking the boy away from a chaotic nighttime scene and carrying him inside the ambulance, looking dazed and flat-eyed.
Alone in an ambulance, the boy - identified by doctors as five-year-old Omran Daqneesh - tries to wipe the blood off his head, unaware of the injury he has sustained. He looks at his hands and wipes them on the ambulance chair.
The image of the stunned and weary looking boy, sitting in an orange chair inside an ambulance covered in dust and with blood on his face, encapsulates the horrors inflicted on the war-ravaged northern city and is being widely shared on social media.
The strike occurred during the sunset call to prayer, around 7.20 p.m., said Mr. Raslan, a correspondent for Al Jazeera Mubashir.
Omran was rescued along with his three siblings, ages 1, 6, and 11, and his mother and father from the rubble of their partially destroyed apartment building, according to Mr. Raslan.
Osama Abu al-Ezz confirmed he was brought to the hospital known as "M10" on Wednesday night following an air strike on the rebel-held neighbourhood of Qaterji with head wounds, but no brain injury, and was later discharged.
Doctors in Aleppo use code names for hospitals, which they say have been systematically targeted by government air strikes. Dr. Abu al-Ezz said they do that "because we are afraid security forces will infiltrate their medical network and target ambulances as they transfer patients from one hospital to another".
Rescue workers and journalists arrived at Qaterji shortly after the strike and began pulling victims from the rubble.
"We were passing them from one balcony to the other," said photojournalist Mahmoud Raslan, who took the iconic photo. He said he had passed along three lifeless bodies before receiving the wounded boy.
A doctor at M10 later reported eight dead, among them five children.
None sustained major injuries, but the building collapsed shortly after the family was rescued.
"We sent the younger children immediately to the ambulance, but the 11-year-old girl waited for her mother to be rescued. Her ankle was pinned beneath the rubble," Mr. Raslan said.
#OmranDaqneesh I dare you to look at him and tell me he's a terrorist and that he deserved it! pic.twitter.com/3yOhi60D20

— MaryamA (@mmmjjj1122) August 18, 2016
Powerful symbolism: #OmranDaqneesh representive of the Syrian opposition delegation. An opposition that betrayed him pic.twitter.com/NpTaqwgaEe

— Ibrahim Halawi (@Ibrahimhalawi) August 18, 2016
Can't imagine a picture more emblematic for #trauma and #war n #Syria. This needs to stop! #OmranDaqneesh pic.twitter.com/ZdrN9zoFxR

— Dr Nadin Mai (@ArtandSlowFilm) August 18, 2016