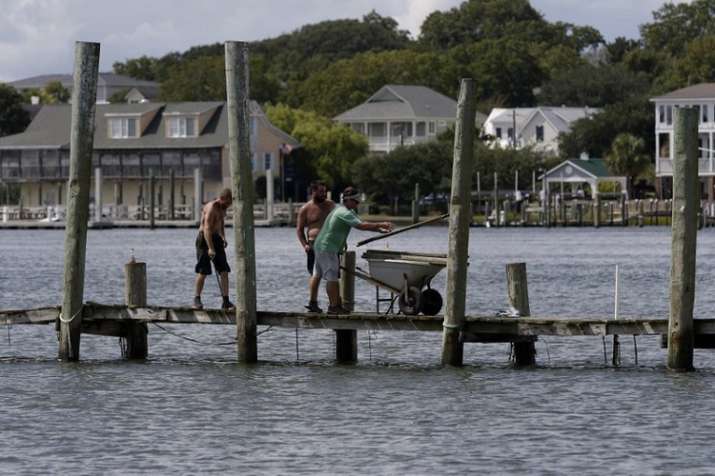 Nearly 1.7 million people in three states were warned to get out of the way of Hurricane Florence, as the storm takes aim at the Carolinas with 140 mph (225 kph) winds and potentially ruinous rains. Forecasters and politicians pleaded with the public to take the warnings seriously and minced no words in describing the threat.
"This storm is a monster. It's big and it's vicious. It is an extremely, dangerous, life-threatening, historic hurricane," the North Carolina governor said.
"The waves and the wind this storm may bring is nothing like you've ever seen. Even if you've ridden out storms before, this one is different. Don't bet your life on riding out a monster," he added.
According to the National Weather Service, nearly 4 million people were under a tropical storm watch, while over 5.4 million people reside in areas under hurricane warnings or watches on the US East Coast.
President Donald Trump declared states of emergency for North and South Carolina and Virginia, as all three states ordered mass evacuations along the coast.
The federal government is "absolutely, totally prepared" for Florence, Trump said.
The storm was centered at 725 miles (1,165 km) southeast of Cape Fear, North Carolina at 8 pm on Tuesday, which later moved at 17 mph (28 kph).
It was a potentially catastrophic Category 4 storm but was expected to keep drawing energy from the warm water and intensify to near Category 5, which means winds of 157 mph (253 kph) or higher.
The coastal surge from Florence could leave the eastern tip of North Carolina under more than 9 feet (2.75 meters) of water in spots, projections showed.
Forecasters said parts of North Carolina could get 20 inches (50 centimeters) of rain, if not more, with as much as 10 inches (25 centimeters) elsewhere in the state and in Virginia, parts of Maryland and Washington, DC.
Florence's projected path includes half a dozen nuclear power plants, pits holding coal-ash and other industrial waste, and numerous hog farms that store animal waste in huge lagoons.
Airlines have begun to cancel flights ahead of Hurricane Florence making landfall later this week.
A mandatory evacuation order for North Carolina's fragile barrier islands was issued by the North Carolina governor.