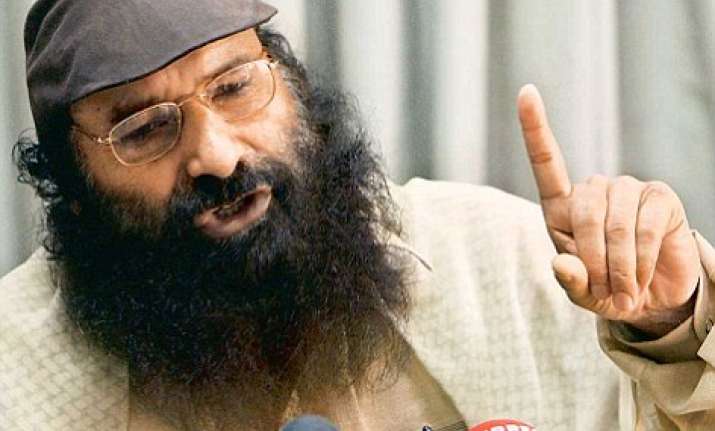 Hizb-ul-Mujahideen chief Syed Salahuddin has asked Pakistan to extend support to Kashmiri militants so that they can achieve their long-cherished goal of freedom from India.
According to a report in 'Dawn', Salahuddin told media persons on Thursday that the Kashmir issue cannot be resolved through talks.
"The festering (Kashmir) issue is not going to be resolved through talks or resolutions… Pakistan should militarily support Kashmiris by providing resources to the mujahideen," Syed Salahuddin said.
"If the mujahideen get military support, not only will Kashmir clinch freedom but the map of the subcontinent will also undergo a change," he added.
The Hizbul chief, however, refused to give details of the kind of military support that the Kashmiri militants needed. 
Salahuddin further said that mass movement in Kashmir had been on the rise after the killing of Hizbul commander Burhan Wani.
Referring to the ongoing unrest in Kashmir, Salahuddin said, "When the world is paying no heed to us, the only option left with us is the armed struggle."
He alleged that Indian intelligence agencies and their "touts" were trying to create disunity among the Hurriyat leadership as well as Kashmiri public.
The Hizbul chief also asked the Jammu and Kashmir Police to stand by the unarmed public instead of being in the vanguard of the Indian army.
"Otherwise they [policemen] will have to face the wrath of Kashmiri people," he warned.
Salahuddin also mocked India's claims of carrying out "surgical strikes" on terror launch pads in Pakistan-occupied Kashmir and claimed that the Indian Army lacked the courage or capability to cross the Line of Control (LoC) to conduct any such operation.
"The propaganda has made India a laughing stock in the comity of nations," he added.