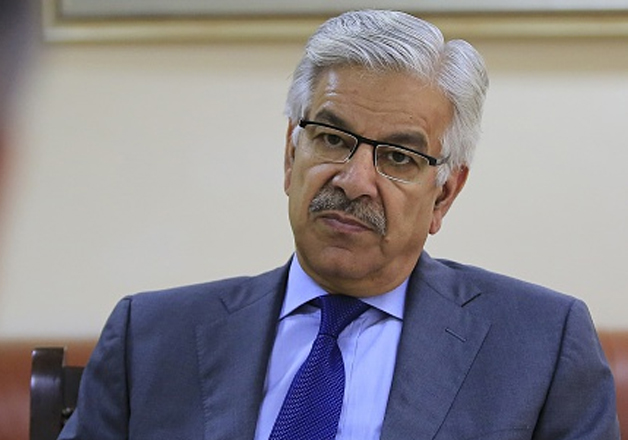 Pakistan has acknowledged for the first time that one of India's most wanted terrorists, Hafiz Saeed, poses a serious threat to Islamabad.
According to media reports, country's Defence Minister Khwaja Asif has said that apart from being a threat to India, Saeed can be a threat to Islamabad and that he was put under house arrest in the 'larger national interest'.
"Terrorism is not synonymous to any religion. Terrorists aren't Christians or Muslims or Buddhists or Hindus. They are terrorists, they are criminals," Asif said while addressing the audience at the Munich Counter Terror Meet (MCTM) in Germany on Monday.
The chief militant of banned terror group Jamaat-ud-Dawa (JuD), Saeed, who was the Mumbai terror attacks mastermind is currently being held in detention in the form of house arrest. 
Strongly opposing the term 'Islamic terrorism', the Minister said that more than 90 per cent of individuals killed by terrorists are Muslims.
"I have heard the term Islamic terrorism, maybe a dozen times since morning, President Trump uses it frequently and this is fuelling Islamophobia because terrorism is being branded as Islamic terrorism," he said.
Meanwhile, political and religious leaders in Pakistan have condemned Asif's statement against Saeed – who they described as a 'patriotic leader'.
Defence of Pakistan Council Chairman Maulana Samiul Haq said that Saeed's detention had weakened Kashmiris struggle for their liberation from India.
Sardar Muhammad Attique, former prime minister Azad Kashmir, said that government functionaries including Asif were issuing media statements to appease India. 
Pakistan Tehreek-e-Insaf (PTI) leader Mahmoodur Rasheed, the opposition leader in Punjab Assembly, said that the government has adopted a defensive policy as far as India and the US were concerned. 
Meanwhile, JuD has announced to hold protest rallies across country on Tuesday Asif's remark.
Hafiz Saeed, who is a major irritant in the already strained relationship between India and Pakistan, is actively involved in spewing venom against New Delhi.
Hafiz Saeed is wanted by India and the US for his alleged role in masterminding the 2008 terror attacks in Mumbai that claimed 166 lives. He even carries a bounty of USD 10 million (over Rs 66 crore) on his head for his role in the attack.
While Pakistan claims to have banned Lashkar-e-Taiba (LeT) in 2002, following an attack on the Indian Parliament, it re-emerged as Jamat-ud Dawa (JuD). The United States has designated the JuD as a front for the LeT.