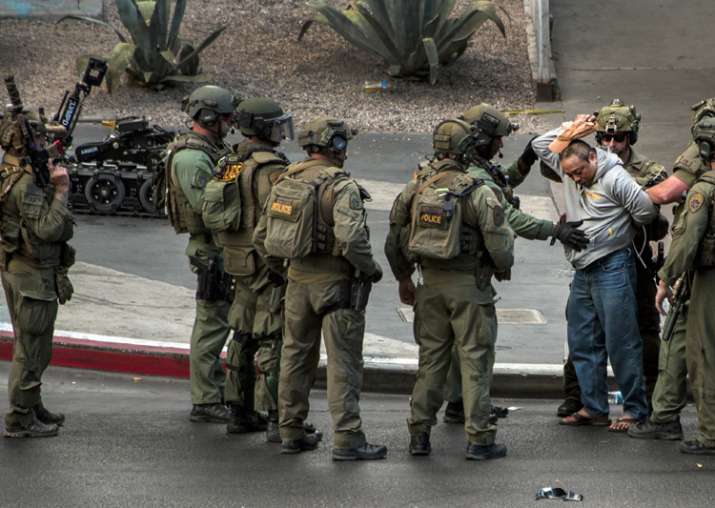 A gunman involved a fatal shooting on the Las Vegas Strip who barricaded himself inside a public bus surrendered peacefully after shutting down the busy tourism corridor for hours, police said. 
The standoff began on Saturday morning with a shooting that killed one person and injured another.
The incident took place on a double-decker bus stopped on Las Vegas Boulevard near the Cosmopolitan hotel-casino. The bus is operated by the Regional Transportation Commission of Southern Nevada. 
"He was on the bus. He was shooting people on the bus. He was just contained to that location. He never exited the bus," said Clark County Assistant Sheriff Tom Roberts.
Two people were taken to the hospital after the shooting, University Medical Center spokeswoman Danita Cohen said. One died, and the other was in fair condition.
That person suffered minor injuries, police said. 
Las Vegas Police officer Larry Hadfield said just before 3:30 pm that the suspect surrendered without incident. Police did not open fire. Crisis negotiators, robots and armored vehicles were on the scene. 
Police said they believe the man is the only suspect and that they have ruled out terrorism or any relationship to an earlier robbery nearby that shut down a part of the Bellagio hotel-casino. 
The casino properties in the area had been cooperating by keeping people from exiting through their front doors onto the Strip, Hadfield said. 
The boulevard was open to public soon and people were seen returning to the heart of the Las Vegas Strip after investigators cleaned up the scene. 
(With AP inputs)